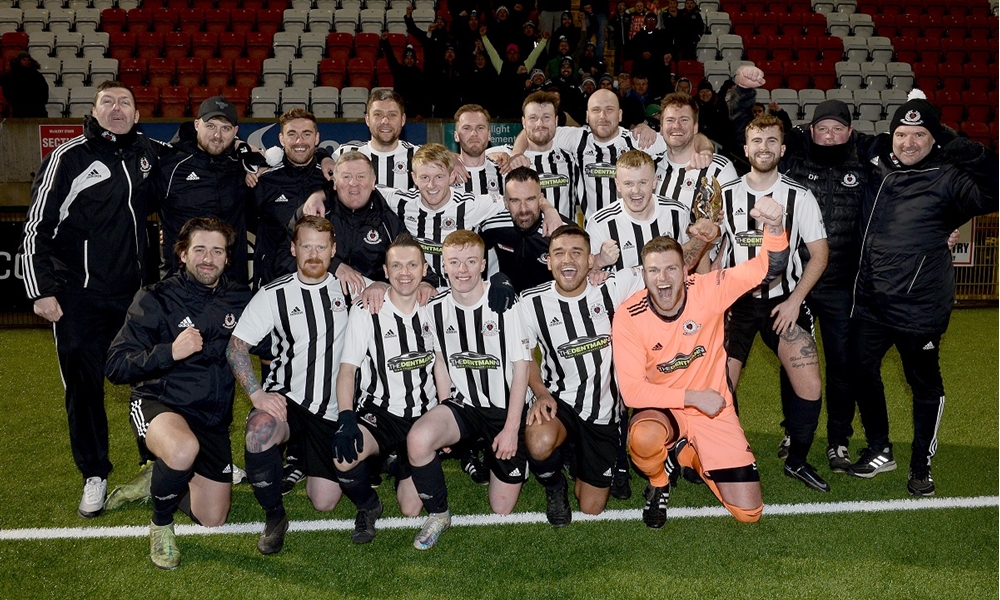 Above: Bangor YM celebrate their victory. Picture: Gary Hancock
Bangor YM secured a place in the fonaCAB Junior Cup following a 2-0 extra-time victory over Crumlin Star II at Solitude.
The game kicked off at a high tempo with both sides laying down early markers but Bangor seemed to have the edge over their opponents and created the first effort on goal.
As the first half progressed it became a battle for midfield supremacy resulting in gaps being left at the back by both defences.
Crumlin Star almost capitalised on this with just over a quarter-of-an-hour of the clock when Keelan Hagans found an opening inside the area and fired off a stinging shot which looked goalbound only to take a deflection before, on the counter attack, Bangor went down the other end to go close through Jordan Baxter.
This pattern continued for the remainder of the half but, with the intervention of both keepers, it stayed scoreless at the break.
Crumlin stepped up a gear in the second half and enjoyed increasing possession, but both defences became more resolute as time ticked down.
Again, both keepers were tested but neither goal was breached through a combination of half chances and poor finishing.
The deadlock was finally broken four minutes into extra-time when substitute Sam Howell edged Bangor in front after creating space inside the area and side-footing the finish past Ciaran McNeill.
Crumlin almost levelled after the break but were thwarted by David Cassells' match saving block and, buoyed by this, Bangor went down the other end and made sure of their place in the decider when Billy Cassells advanced into the box and unleashed a powerful shot beyond McNeill.
All credit must go to Crumlin Star for taking a side three divisions above them to extra-time but, in the end, Bangor YM proved too strong and go forward to lock horns with either Coalisland Athletic or Strathroy Harps in the final.