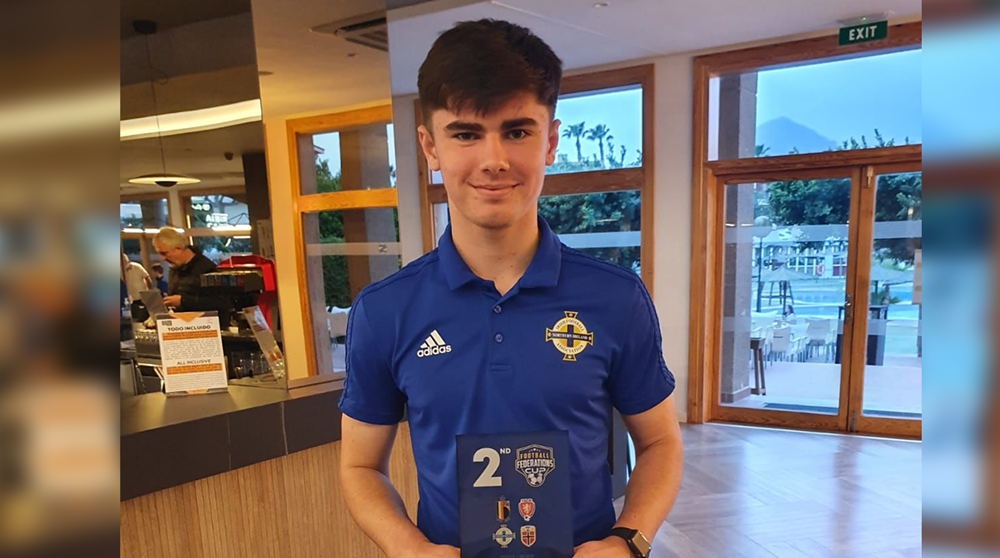 Northern Ireland captain Darren Robinson with the plaque presented to Northern Ireland U18s for finishing second overall in the Football Federations Cup
Northern Ireland's U18s registered their second victory in the Football Federations Cup against a robust Czech Republic side.
After defeating Norway U18s 2-1 in their first game in the four-team tournament in Spain, and then losing 2-0 to Belgium in game two, they deservedly beat the Czechs 1-0 in their third and final game.
Gareth McAuley's side secured the win thanks to a Michael Forbes goal in the 72nd minute. It was a great result against an organised and strong team
The match in Rocamora saw both sets of players create opportunities early on. Northern Ireland striker Omari Kellyman was a constant threat down the right.
Stephen McMullan, who was afterwards named goalkeeper of the tournament, pulled off the save of the tournament on 35 minutes to deny Czech Republic's David Jurcenko.
Both sides carved out chances as the game was played at high intensity. McMullan pulled off some fine saves – as did his Czech counterpart Vojtech Myska.
The deadlock was not broken until Matty Carson produced a great delivery into the area which was rifled home by Forbes.
The boys in green and white worked hard to see out the game and claim a victory which saw them finish in second place in the tournament overall. They missed out on top spot - to the Belgians - on goal difference.
Northern Ireland took part in the four-team tournament in Albir as part of preparations for U19 Euro qualifiers later this year.
McAuley, who is usually in a coaching role, took charge of the team following the passing of U19s/U17s boss Gerard Lyttle's father. Two other former Northern Ireland internationals, Warren Feeney and Michael Ingham, assisted McAuley in Spain.
Northern Ireland U18s: Stephen McMullan, Matthew Carson, Ruairi McConville, Michael Forbes, Darren Robinson (captain), Jamie McDonnell, Charlie Lindsay, Omari Kellyman, Aaron Wightman, Conor Scannell, Reece Evans. Substitutes: (used) Patrick Kelly, Makenzie Kirk, Darragh McCloskey; (unused) Dylan Graham (GK), Conor Falls, Callum Wilson, Reece Jordan, Tommy Fogarty, Callum Marshall, Bobby Deane.
Czech Republic U18s: Vojtech Myska, Ondrej Coudek, Matyas Hanc, Ondrej Sedlacek, Stepan Beran, Matej Sin (captain), Daniel Smiga, Filip Spatenka, Adam Zapletal, David Jurcenko, Tomas Vach. Substitutes: Denis Kaulfus (GK), Matyas Bitta, Samuel Grygar, Adam Sevinksy, Dominik Danek, Lukas Fila, Filip Brdicka, David Nykrin, Simon Polasek.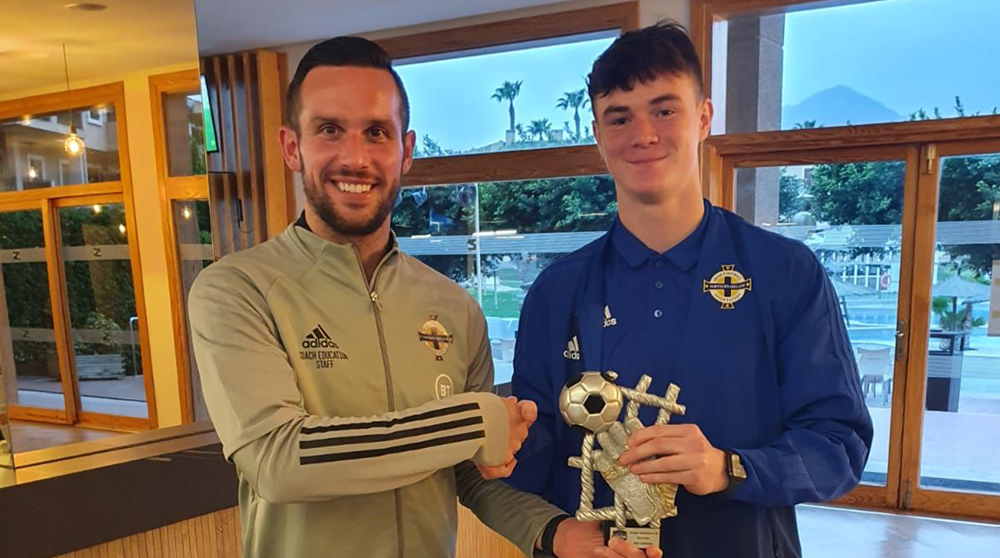 Stephen McMullan receives his goalkeeper of the tournament award from Irish FA JD Academy head Andy Waterworth.