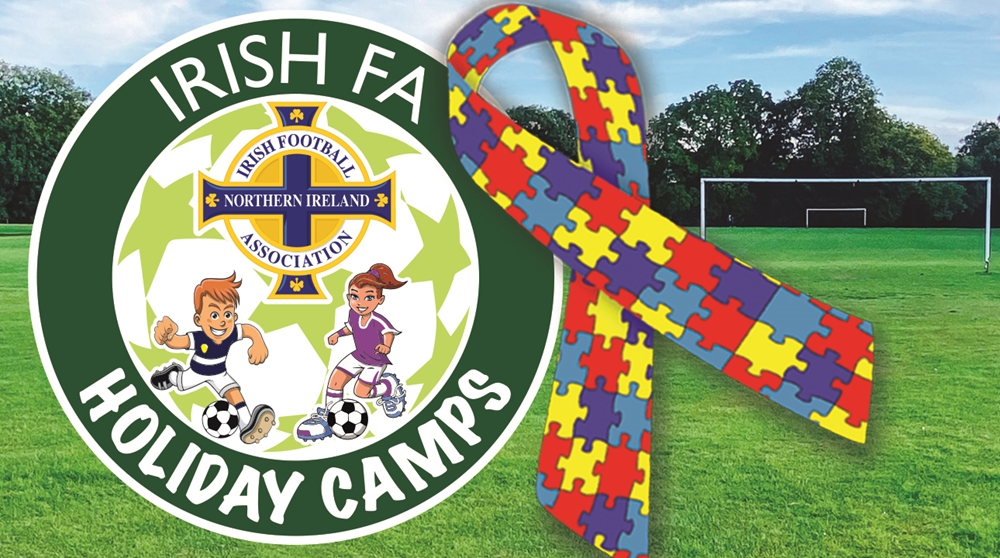 The Irish FA Foundation is to run a camp for children with autism as part of its extensive Easter Football Camps 2022 programme.
The three-day football camps, which are part of the foundation's grassroots development programme, are running in venues across Northern Ireland next month.
The number of camps being staged in April has now risen from 24 to 25 after the foundation agreed to run an autism-friendly camp with the support of Autism NI and Disability Sport NI.
The free camp is set to be hosted at the 3G pitch at Belfast's Olympia Leisure Centre from 12-14 April (10am to noon each day).
It is aimed at boys and girls aged 7-12 with autism spectrum disorder (ASD). And there will be a buddy system in place where each participant may, if they wish, bring a sibling or friend within the same age band.
All coaches will be suitably qualified, with experience of working with children with autism, and supported by volunteers from Autism NI and Disability Sport NI.
However, numbers at the camp are limited to 32 (16 participants and 16 buddies). Online registrations are now open until 8 April at www.irishfa.com/autismfriendlycamp.
Irish FA Foundation Schools and Futsal Manager Gareth Allen is looking forward to the camp.
He said: "We are aware of many keen young footballers with autism who find it difficult to engage in, and therefore enjoy, our holiday football camps.
"With the valued support of Autism NI and Disability Sport NI, we are hopeful of providing a camp that gives those players the platform to enjoy the beautiful game."
Irish FA Foundation Disability and Inclusion Manager Alan Crooks added: "We are always looking to break down barriers and give opportunities for young players of all abilities to play. This should be a great few days of football and hopefully it is something we can build on in the future."
Meanwhile, places are still available at the 24 other camps, which cover Northern Ireland's 11 council areas. Prices are £21 for one child or £31 for two children, £41 for three children and £51 for four kids from the same family. Click here to book a place/s at a camp.
Twenty-two of the camps are scheduled to run from 20-22 April, while camps at Antrim Forum and the Blanchflower Stadium (H&W Welders) in Belfast will run from 13-15 April.
The sessions provide opportunities for boys and girls aged 5-13 to develop and improve their football skills in a fun, safe and inclusive environment with professionally trained and vetted staff.