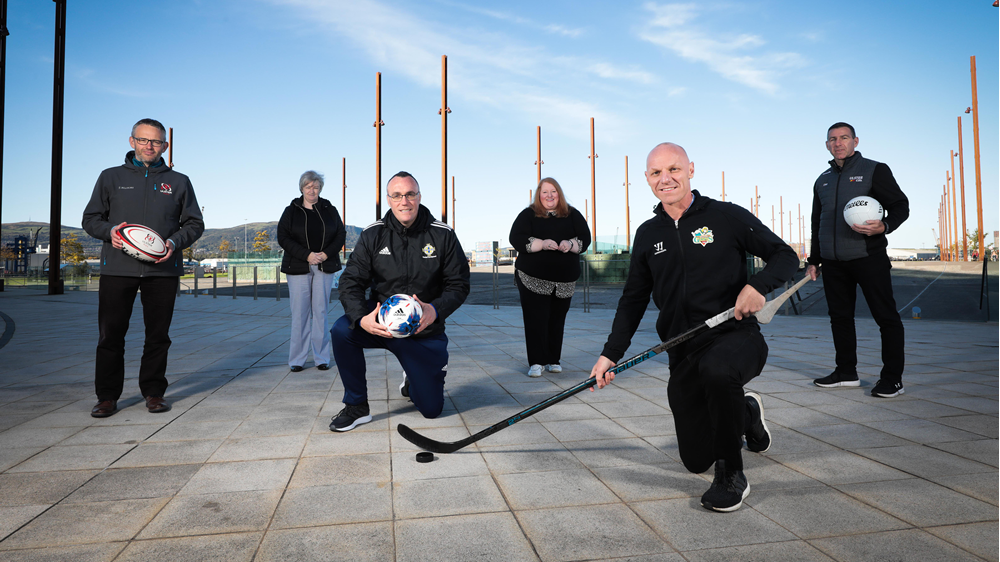 The Irish Football Association, Ulster Rugby, Ulster GAA and the Belfast Giants have come together with support from the NI Executive to deliver a new and innovative sporting programme. 
'Fresh Start through Sport' will use the universal appeal of sport as a means to engage with young people who are potentially at risk from becoming involved in criminality. 
Each sporting delivery partner (Irish FA, GAA, Ulster Rugby and the Belfast Giants) will deliver activity based modules which will guide and support the participants through the project and help them in identifying and making positive life choices. 
This Department for Communities-led programme, supported by the Department of Justice, is being launched with the Irish Football Association Foundation, the charitable arm of the IFA, acting as the lead provider. The programme is initially being launched as a pilot in two areas and if successful will be rolled out further in 2021, subject to funding.
Department for Communities Minister Carál Ní Chuilín said: "This new pilot is the latest programme delivered by the Department for Communities in conjunction with the Department of Justice which looks to provide help and support to the young people who need it most. 
"This programme will contribute to bringing about positive change into the lives of participants. The delivery partners will provide sporting and accredited qualifications for participants, improving their employability. They will also aim to improve mental health and well-being of participants in the programme and provide long term support in terms of signposting to other agencies." 
Justice Minister Naomi Long said: "Forward thinking initiatives such as this one are key engaging with our young people, giving them vital skills and helping them to make positive life choices.
"This pilot programme, which is part of a wider cross-Executive programme through the Fresh Start Agreement, shows our willingness to look for innovative solutions to help young people avoid entering the youth justice system and create an environment for them to thrive."
Patrick Nelson, Irish FA CEO, said: "Sport can have a transformative effect in the lives of young people. This programme will harness the combined power of three of the biggest sports in Northern Ireland to make real change to people across all of our communities. We are delighted to welcome Belfast Giants to the partnership too."
Brian McAvoy, Ulster GAA CEO, commented: "The Fresh Start Through Sport initiative is a further example of how sport can provide unique opportunities for young people from different backgrounds. Ulster GAA hopes that the participants can use the positive experiences and knowledge gained from across the sports in the years to come."
Chris Webster, Ulster Rugby Head of Rugby Development, added: "The Fresh Start Programme is an opportunity for us as local sporting organisations to come together and help transform the lives of young people from across our community. 
"Through education, ambassadors and well-being support, we can equip participants with the skills and knowledge they need to improve their employability, as well as make more positive life choices. We look forward to working alongside the IFA, Ulster GAA and the Belfast Giants on this initiative in the months ahead."