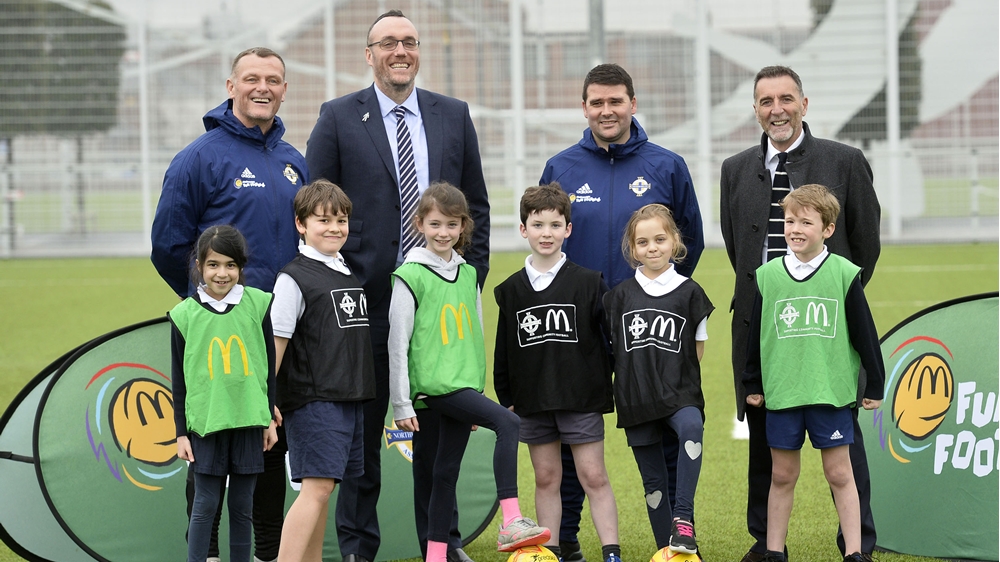 Nominations for McDonald's Irish FA grassroots football awards are still open.
2020 marks the 19th year of the awards which honour the heroes of grassroots football across Northern Ireland.
There are nine categories, including Young Volunteer of the Year, Volunteer of the Year, Wes Gregg Coach of the Year, Inclusivity Award, Club of the Year and People's Award.
This year's awards were launched at a special coaching session and Q&A event at the National Football Stadium at Windsor Park.
Former Northern Ireland international David Healy helped lead the call for nominations in Northern Ireland and encouraged communities to honour their local footballing heroes, he said: "It's important to remember how vital the grassroots game is in providing young children with the opportunity to play regularly.
"Anyone involved in local grassroots football is eligible to be nominated, from volunteers to coaches and club secretaries, so get online to nominate a local hero and give them the opportunity to be recognised at the ceremony later this year." 
Jim Magilton, the Irish FA's Elite Performance Director, said the annual awards were an excellent way to recognise unsung heroes involved in the grassroots game. 
Futsal or Futebol de Salao is the fastest growing indoor sport in the world. The Irish FA Foundation, together McDonald's and Futsal NI, promote the development at grassroots level via community projects, clubs and centres across Northern Ireland. Please nominate a Futsal project near you that has made a positive impact to young people. 
2019 saw a record number of nominations across all categories in the McDonald's awards, underlining the growth of the awards and passion for grassroots football in Northern Ireland. 
The Grassroots Football Awards are a pivotal part of the McDonald's four-year partnership with all the UK football associations which runs until 2022. The overall programme will deliver five million hours of fun football and family events to local communities, reaching 500,000 children across the UK.
Locally, the Fun Football programme will see 250,000 hours of coaching, games and fun delivered by the Irish Football Association Foundation to more than 75,000 children across Northern Ireland by 2022.