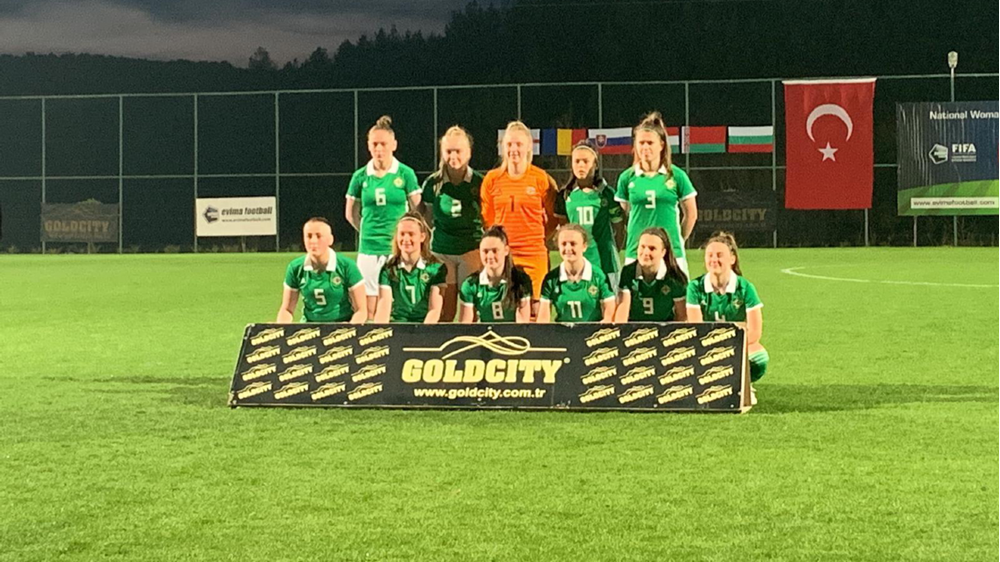 Northern Ireland's Women's Under-19 side lost their opening game in the Gold City Women's Cup in Turkey.
The WU19s, who are listed as Northern Ireland B (seniors) in the tournament schedule, are facing senior sides in the competition, which runs until next week at the Gold City Sports Complex in Alanya on Turkey's southern coast.
And Alfie Wylie's side competed well in the first of three group stage games, narrowly losing 2-0 to the Kenyans.
The first clearcut chance of the game came after eight minutes. Northern Ireland captain Joely Andrews produced a stinging drive which brought out the best in Kenya's keeper. 
Four minutes later Kenya squandered a good opportunity when one of their attackers got on the end of a pinpoint delivery but headed the ball straight into the hands of Northern Ireland keeper Lauren Perry. 
The WU19s saw plenty of the ball and were on top for most of the half. On 20 minutes a long range effort from Cora Morgan rattled Kenya's crossbar and the follow-up effort from Beth Smyth nestled in the net but was harshly ruled out for offside.  
And then a couple of goal-line clearances by Kenya's defence kept it scoreless up to half-time.
Within three minutes of the re-start Andrews was again denied by the agility of the Kenyan keeper.
As the game wore on, however, the African side started to take control and on the hour they took the lead. A quick break following a Northern Ireland corner ended with a Kenyan forward bundling the ball over the line to break the deadlock. 
Kenya continued to pile on the pressure and on 75 minutes Perry produced a terrific save, pushing a blaster round the post.
From the resulting corner, however, Kenya scored. The corner was poorly defended, leaving a Kenyan forward a free header from close range. 
Overall it was a good performance from the WU19s against a decent senior national side. 
Next up for Wylie's side at the tournament is a match against Ghana on Saturday (1800) and then they face Chile next Tuesday (1500 start).
Northern Ireland WU19s v Kenya: Lauren Perry, Beth Chalmers, Naomi Donnan, Mia Fitzsimmons, Fionnuala Morgan, Shona Davis, Beth Smyth, Jessica Rea, Cora Morgan, Joely Andrews, Kerry Beattie. Substitutes: Sasha Clare, Kirsty Cameron, Aimee-Lee Peachey, Sophie Megaw, Caitlin Chapman, Grainne O'Casey, Faith Johnston, Holly Otter.