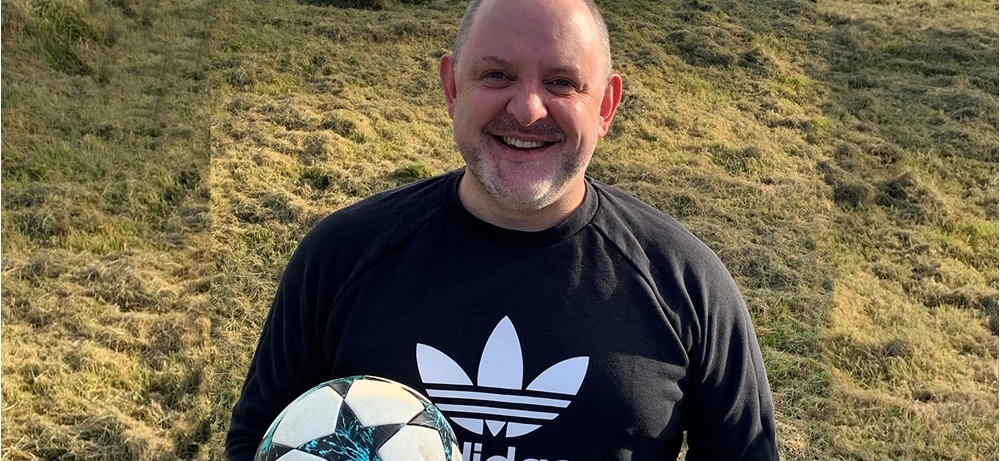 The man aiming to help improve football at amateur level throughout Northern Ireland knows he faces a tough challenge in his new role.
But Dean Holmes, who has just become the Irish Football Association's first Amateur Football Game Developer, is ready to tackle that challenge head on along with other colleagues in the association's foundation. 
"What I'll be doing is hopefully bringing the amateur game together and promoting amateur football within the association. It's a tough task, however I am confident I can help to improve the amateur game," he explained. 
"I will be extending the Irish FA's footprint in the game across the country and will be working towards increasing the standard, numbers and opportunities for participation across the leagues here."
Dean, who has more than 20 years' experience within football and other sports, is keen to use models of good practice from across the sporting spectrum to help reinvigorate and develop amateur football in Northern Ireland.
"I will be working with the leagues, clubs, councils and Irish FA staff to develop the game and its profile and to develop sustainability and quality within amateur football," he pointed out.
Dean, who studied at Manchester Metropolitan University and Glasgow University, is a UEFA B Licence holder and has worked as a football coach with a range of organisations, including Bobby Charlton Soccer Schools and the Manchester United Soccer School.
He also completed a Masters degree in marketing at the University of Ulster - specialising in brand equity in football.
An avid Manchester United and Northern Ireland supporter, Dean is still actively involved in football and volunteers at the McDonald's Small-Sided Games Development Centre based at Valley Leisure Centre in Newtownabbey.
He further pointed out: "There are several key areas and priorities over the coming months. It has been identified that there has been a drop-off in participation within the 18-24 age group and we hope to put programmes in place to combat this.  
"We are always trying to increase the standard of the game at all levels and the amateur game is no different. We will be launching a national coaching certificate (Level 1) for the adult game." 
Amateur football matches are normally played on a Saturday throughout the bulk of the season in Northern Ireland, however the new Amateur Football Game Developer is keen to respond to societal changes by looking at alternatives to the regular day to keep football at the forefront of people's minds. 
Other areas for consideration include insurance and the quality of clubs.   
He explained: "We want to ensure that everyone who plays the game does so safely and their only worry when they step on the field is the game itself. Club accreditation will provide stability and sustainability in the amateur game and provide a long term future for all clubs and stakeholders in the game we love." 
Dean brings a wealth of experience to his new role with the Irish FA Foundation.
He worked as a community sports development officer before becoming Newtownabbey Borough Council's sport and play development officer for more than 12 years, bringing in over £9m in funding. And he was one of the lead officers in the £4.7m development of Valley Park, which provided high quality football facilities.
Dean is also a former chair of Sport North East, which created the successful Wildcats programme and ran development programmes for nine sports, including football.
In addition he has managed several large scale events, including an international hockey tournament, a women's football Home Nations event, Euro 2016 screenings and the 2016 Olympic torch run, the Giro d'Italia and the Queen's Baton Relay within Newtownabbey.
Dean joined the association from Ulster University where he worked in the global engagement section. His job included managing an international football summer school.