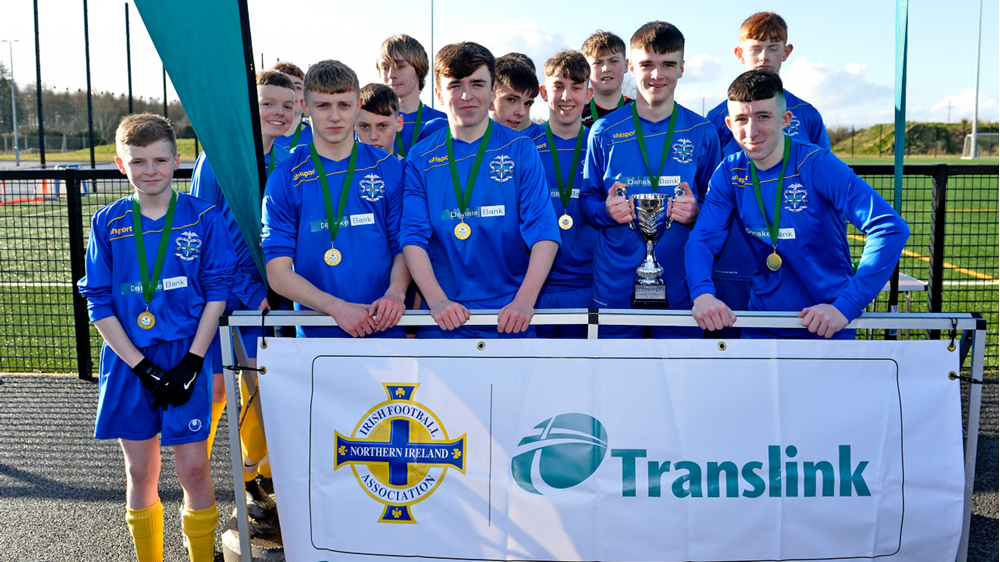 St Columb's College from Derry-Londonderry have won this season's Translink Schools' Gold Cup.
They ruled the roost after winning two of the three deciders played on the annual Finals Day in the competition.
The Irish FA Foundation competition, sponsored by transport company Translink, involves the eight post-primary schools in Northern Ireland who have been awarded the Gold Schools Quality Mark accreditation, which recognises schools who put structures in place to develop football.
The participating schools have faced each other across three age groups (U13, U15, U17) since the start of the school year.
In the competition points are awarded to schools for their league positions, and the school with the most points is the overall winner of the Translink Schools' Gold Cup and achieves 'Top Football Performance School' status in Northern Ireland. 
St Columb's were convincing overall winners this year as they won both the U15 and U13 cups.
The Derry-Londonderry school defeated Belfast's Boys' Model 3-0 in the U15 Cup final and Lisburn's Laurelhill Community College 4-0 in the U13 Cup decider on Finals Day, which was staged at Allen Park in Antrim.
The main competition for St Columb's were North-West rivals Holy Cross Strabane who defeated east Belfast school Ashfield Boys' High in the U13 and Bangor Academy in the U15 third/fourth placement matches. 
However, Holy Cross lost out in the final of the U17 Cup to east Belfast school Our Lady and St Patrick's Knock.
The Translink Schools' Gold Cup standings for 2019-20 were: 1 St Columb's College, 2 Holy Cross Strabane, 3 Our Lady and St Patrick's Knock, 4 Ashfield Boys' High, 5 Boys' Model, 6 Laurelhill Community College, 7 St Malachy's College (Belfast), 8 Bangor Academy.
See picture gallery for action from Translink Schools' Gold Cup Finals Day.
Main image: The players from St Columb's College in Derry-Londonderry celebrate their success in this season's Translink Schools' Gold Cup.