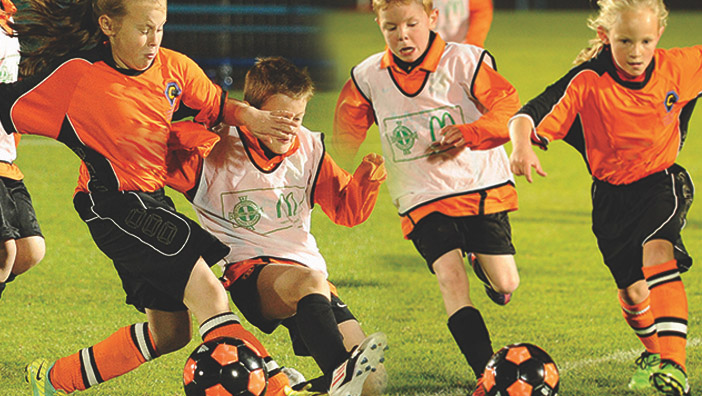 The Irish Football Association Foundation is on course to increase youth football participation rates in Northern Ireland to 100,000 by 2025.
The 100,000 target was set in the Irish FA's Let Them Play youth strategy, which was launched in 2015 when there were 50,000 participants. 
The foundation's annual report for 2019 shows playing rates had risen to 77,300 by December last year.
Another key aim is to get more schools and colleges playing football across Northern Ireland – up from 45% in 2015 to 90% by 2025. 
The foundation is striving to get 60,000 young people on the ball in schools and colleges by 2025. The figure was 25,000 in 2015 and currently stands at 36,191.
It also wants to see more clubs run by qualified, committed and Access NI authorised volunteers. In 2015 there were 50 volunteers in 41 accredited clubs. The target is 300 clubs and 500 volunteers by 2025. At the end of 2019 there were 141 accredited clubs with 280 volunteers.
The Irish FA Foundation further revealed it is delivering on the Irish FA Disability Football Plan and Game Changer Futsal Plan with more than 2,500 new players involved in futsal and 5,000 people with a disability playing football in its programmes by the end of last year.
The foundation's staff manage more than 50 venues across the country delivering McDonald's Small-Sided Games Development Centres - with more than 19,000 children between the ages of four and 13 playing on a weekly basis.
Another success story in 2019 was football camps at Easter, summer and Halloween. They are sponsored by Irwin's Nutty Krust.
A total of 154 camps were staged across the three periods with the total number of participants reaching 8447 - up nearly 10% on the previous record set in 2016 when Northern Ireland qualified for the European Championship finals in France.
Futsal is becoming increasingly popular in schools, too. Last year the foundation organised 13 regional futsal tournaments across Northern Ireland for primary schools. Ninety-five schools and more than 1,500 pupils participated.
Post-primary futsal competitions attracted over 2,000 participants. Around 200 teams were introduced to futsal through 12 regional tournaments and a national finals.
The Department of Education-funded Sports programme was delivered by Irish FA Foundation coaches in 144 primary schools across the country. Just over 430 sessions were organised for 10,238 children each week. Coaches engaged with more than 430 teachers to ensure sessions were linked to other curriculum areas throughout the academic year.
Other highlights over the 12 months included 99 prisoners and young offenders taking part in the foundation's Stay Onside crime prevention programme, while it also ran 25 Ahead of the Game mental health workshops across Northern Ireland.
In the report the foundation promises to continue to promote football for all, adopting an inclusive approach so that all members of the community have access to its initiatives, regardless of background, gender, religion, politics, race or sexual orientation.