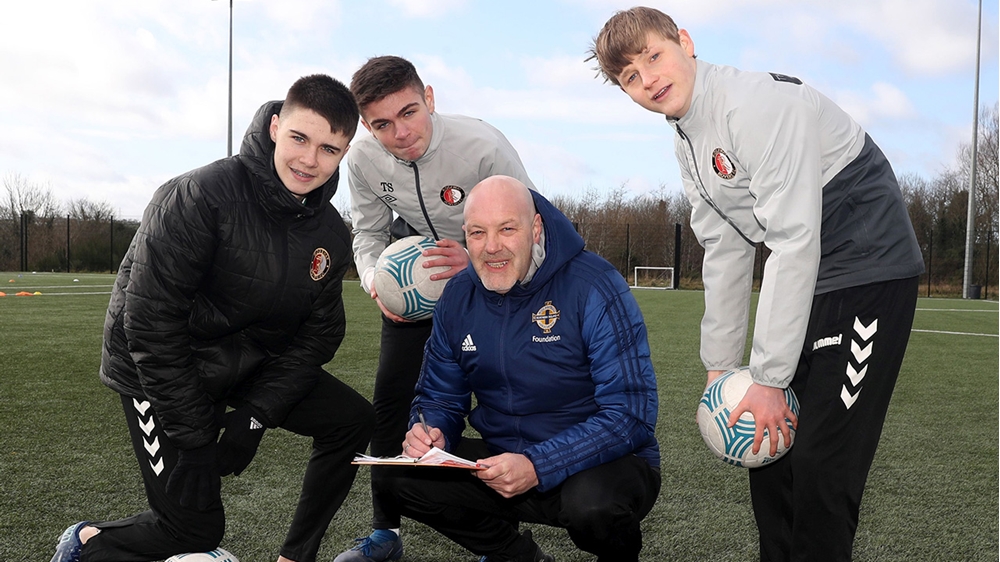 Young footballers usually just want to play and train and not concern themselves with the coaching side of the game, but that's not the case with three teenagers involved with Dundonald-based club Ridgeway Rovers.
Christopher Cummings, Tiernan Small and Josh Tumilson have all been playing with Ridgeway since they were at primary school.
However, despite only being 16, all three of them feel it's already time to give something back to the Co Down club – and they have been working towards their Irish FA Level 1 coaching qualification.
"I love football and would like to help younger kids to get better and to help develop youth football," said Josh.
"It is something that has always interested me. I want to help young kids improve and give them the sort of advice I was given as a kid," explained Christopher.
And Tiernan added: "I want to teach others what I have learned through playing football and try to make them better players."
Phil Melville, a Grassroots Regional Development Officer with the Irish FA Foundation, has been assessing the trio during the Level 1 course. He praised their attitude and admitted it was not usual to see 16-year-olds stepping on to the coaching ladder.
All three boys enjoyed taking part in the coaching course. "What I enjoyed most about the course was learning about the different techniques involved in coaching, I also enjoyed hearing everyone's thoughts and opinions on the game of football and how it should be played," said Christopher.
And Tiernan pointed out: "I got to learn some new drills that I can use and I have learned how to best develop players."
Josh added: "I have loved being able to use the information provided to develop sessions for my own club."
All three teenagers, who are full of praise for the set-up at Ridgeway, especially its "friendly coaches" and the opportunities for coaching that it provides, are no slouches when it comes to playing either.
Tiernan, who supports Liverpool and is a great admirer of Manchester City's David Silva, is an attacking midfielder, while Christopher, who follows Liverpool and Linfield and says Liverpool's Trent Alexander-Arnold is inspirational, operates at right back.
Liverpool, Rangers and Glentoran fan Josh, meanwhile, also lists TAA among his favourite players alongside Rangers winger Ryan Kent and Glentoran winger Navid Nasseri. Josh can play in midfield or up front.
Phil Melville applauded the boys for wanting to develop their football knowledge and urged other youths to follow suit once coaching courses return following the coronavirus pandemic.
Image: Phil Melville with the three young coaches from Ridgeway Rovers.