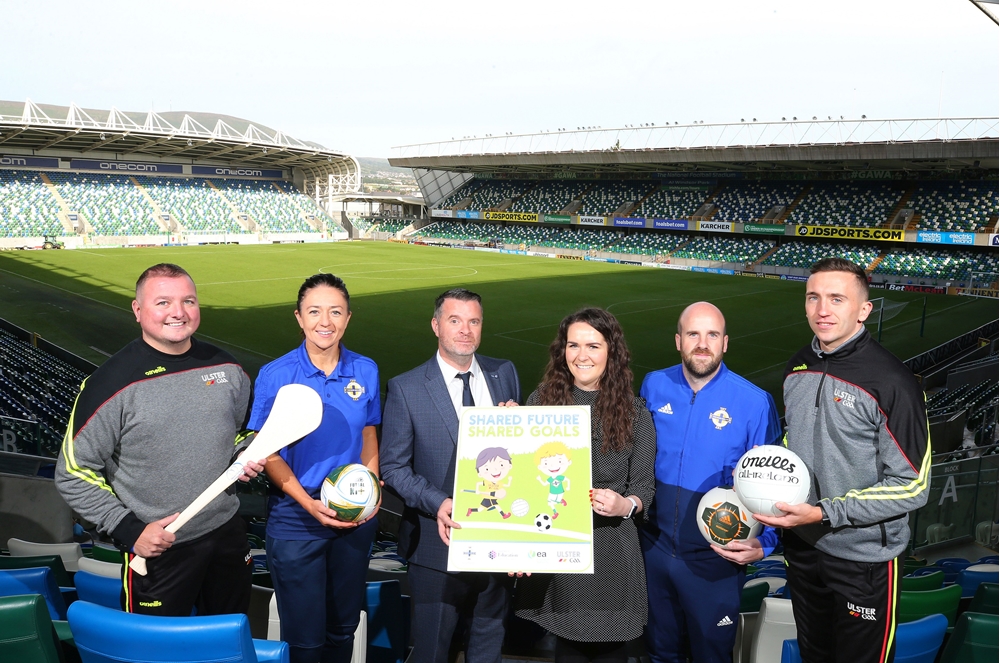 Ulster GAA and Irish FA Foundation coaches are working together in primary schools across Northern Ireland to encourage children to adopt healthy lifestyles and to take up sport.
The two sporting bodies have teamed up to deliver a new schools' programme, 'Shared Future, Shared Goals', in partnership with the Education Authority.
The initiative will focus on educating pupils at Key Stage 2 level about the importance of sustaining health, growth and wellbeing as well as building an awareness of the importance of a healthy diet and active lifestyle. 
And it is also set to help participants to develop resilience and mental toughness through practical games and workshop delivery.
Twelve coaches from the Irish FA Foundation and a further 12 from Ulster GAA will be delivering 'Shared Future, Shared Goals' in 2019-20 in schools selected by the Education Authority, which is funding the initiative.
The sessions delivered in participating schools over a 10-week period will be tailored to each school's needs. They will be designed in cooperation with partnership school principals and teachers to link activities to other learning areas such as numeracy, literacy and the world around us. Sessions will be split between classroom and school hall activities.
The programme content has been developed by nutrition and education experts in line with the recommendations in the Government's 'Eat Well Plate' and the National Curriculum. And an equal number of boys and girls from all backgrounds will receive the unique learning experience.
The main objectives of the initiative includeproviding high quality learning and teaching, tackling childhood obesity and valuing and celebrating cultural difference and diversity through the vehicle of sport.
It also aims to utilise sport and physical activity to boost other curricular areas such as health and mutual understanding, to signpost pupils to further sport participation opportunities and to provide information and advice to help primary schools understand and promote children's mental health and wellbeing.
And 'Shared Future, Shared Goals' has a core set of values focusing on neutrality, inclusion, respect, trust, responsibility, equity and equality.  
Michael Boyd, Irish FA Director of Football Development, said: "This is an excellent programme that will benefit the health and well-being of schoolchildren right across Northern Ireland. We are delighted to be delivering it in association with our colleagues at Ulster GAA and the Education Authority."
Eugene Young, Ulster GAA Director of Coaching and Games Development, said: ''The launch of this new initiative with our partners at Irish FA Foundation and the Education Authority is a significant development and we look forward to assisting schools in this essential area of learning for our children.''
The 'Shared Future, Shared Goals' initiative will build the capacity of teachers within shared education partnerships. By working collaboratively with experienced coaches, teachers will have the confidence to deliver quality physical education lessons beyond the project. This co-delivery model provides opportunities to transfer learning while embedding the ethos of shared education. 
In addition the opportunity to connect shared education partnerships to sporting organisations, within the local community, will provide a platform for the children to develop greater relationships and friendships through the medium of sport. 
Image: Paul McIver and Catherine Forte from the Education Authority joined Irish FA Foundation and Ulster GAA coaches to launch the new 'Shared Future, Shared Goals' programme which will see the two sporting bodies working together in primary schools.