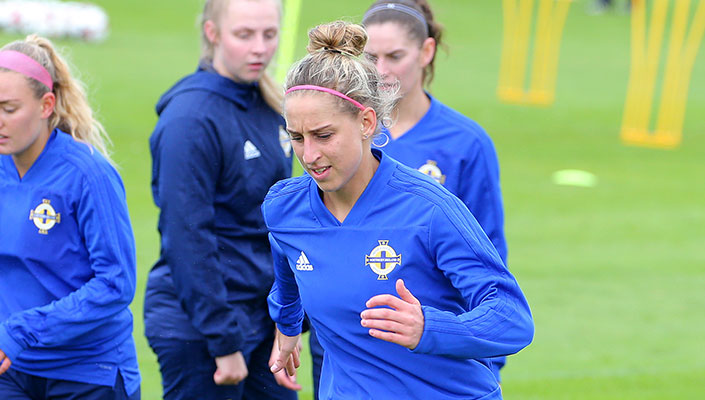 Next in the series of finding out more about our Senior Women players is Natalie Johnson...
Position: Full Back
Favourite Team(s): Leicester City
Q. When did you first start playing football?
A. I started playing with a boys team when I was about 4 years old. My dad was a coach and my older brother played there, so they took me along and the rest is history!
 Q. Favourite football memory as a kid watching?
A. My favourite memories are going down with my dad and grandad to watch Leicester City play…although most recently it's got to be seeing Leicester win the Premier League title! 
Q. Tell us which clubs you have played for (including current team) and favourite memories?
A. As well as playing for Oadby Owls boys team, I grew up in the Leicester City Centre of Excellence and apart from a 4 year stint at University in America, I have been with the senior Leicester City Women's team ever since.
My favourite football memory is winning the Conference Carolinas Championship for the first time in my schools history in America.   
Q. As you are from Leicester, how do you qualify and how does it feel playing for Northern Ireland?
A. My mum was born in Magherafelt and grew up in Newcastle, County Down. My family are extremely proud of their Northern Irish roots and its an honour and a privilege to be able to be able to play for the national team.
Q. What does playing International Football mean to you?
A. Playing international football has always been a dream and I am incredibly humbled that it has become a reality. I have learned so much from the girls and management and I hope to keep learning more. 
Q. Best mate in the Northern Ireland squad?
A. All the girls are great and have been so welcoming but shout out to Rachel Newborough who was my roommate in Turkey and has helped me to get settled in the squad straight away and showing me how it's done at full back!
Q. Favourite artist(s) to listen to?
A. I love all kinds of music, but you can't beat some Kasabian or Arctic Monkeys.
Q. Favourite film(s) to watch?
A. Anything that'll make me laugh, or anything in the Marvel universe.
Q. What is currently on the continue watching on Netflix?
A. At the minute I'm loving Brooklyn Nine-Nine
Q. Favourite players?
A. I love the work rate of players like Jamie Vardy and Mark Albrighton at Leicester, but it has to be Kevin De Bruyne for his vision and technical ability.
Q. What do you hope for from the upcoming qualifying campaign?
A. I hope that we can really take the game to Wales and get some positive results. I'm excited for us to show just how much we've learned and improved under Kenny in recent months.