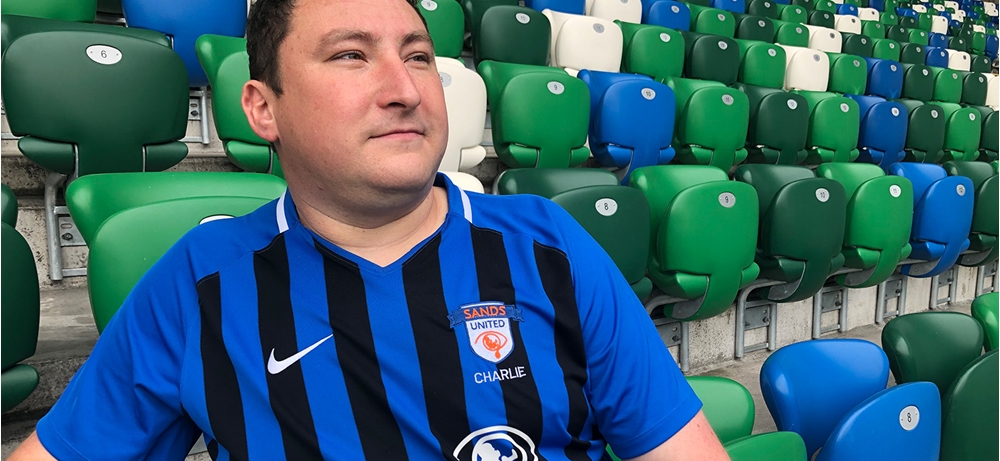 Northern Ireland fan John Haire plays for Maiden City Sands United FC, a team for bereaved family members.
Sands United FC is a unique way for dads and other bereaved family members to come together through a shared love of sport. John Haire's aim is to establish Sands teams across Northern Ireland and eventually a national team. 
John told us: "I got involved with Sands United FC after my wife and I experienced a stillbirth last year. Our Maiden City team was the first team in Northern Ireland and now we have over 25 players. I am delighted to have been involved in setting the team up and have been helping teams to form in other cities."
John believes his teammates and the GAWA have played a big part in his journey. 
"There is something so universal about men and football," he said. "The GAWA and Sands United have a huge role in helping bereaved men. Through speaking to people in the teams it has helped me a lot as it is a way of dealing with my feelings.
"I take great pride in the fact that I come from Northern Ireland and I love following the team. I'm really looking forward to coming to the Luxembourg game and I feel very privileged to be asked to be Fan of the Month."
Sands United have teams based in England that play in a league, however, Northern Ireland's teams are currently restricted to friendlies and regular training. John wants to reach out to other bereaved family members in Northern Ireland to get involved.
He added: "Organising a Northern Ireland Sands United team is my dream! I have ambitions of having a UK wide tournament involving all the Sands United teams.
"We want all men who are bereaved by infant loss to know there is a place for them to come, where everyone knows what they have lost, without having to chat about it if they prefer not to. You can get involved via social media and we can offer support with setting up local teams."
If you would like to contact John or Maiden City Sands United you can get in touch on Twitter: @maidencitysands