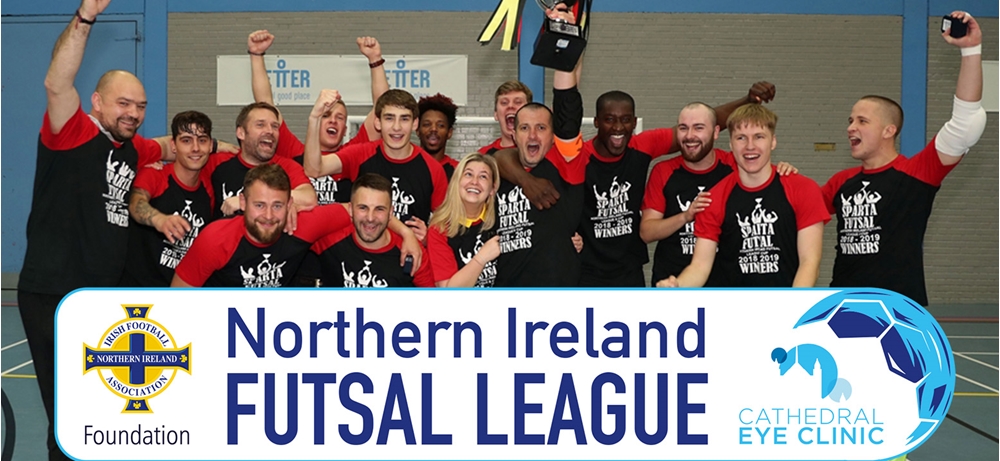 The domestic futsal season is about to kick off again in Northern Ireland this weekend and it promises to be the best yet with new investment in the game.
Cathedral Eye Clinic will be sponsoring both the senior male and female domestic leagues for the next three seasons as well as the senior men's and senior women's international futsal squads.  
Gary McArdle, General Manager at Cathedral Eye Clinic, is delighted to be supporting the growth of futsal in Northern Ireland. He said: "The game of futsal is extremely popular all over the world with 170 federations participating in international competition. The five-a-side game requires skill, creativity and vision. Futsal plays an important role in improving the technical, tactical and physical qualities of the future generation of players.
"We are, therefore, delighted to be working with the Irish FA in the promotion of futsal across the educational sector through into the development of the senior women's and men's domestic leagues and the enhancement of Northern Ireland's international competitiveness in the sport."
Gary added: "Cathedral Eye Clinic also advocates futsal's ability to encourage lifelong involvement in sport and physical activity as a viable alternative to football for those that can no longer play competitively or for those that wish to play recreationally."
Last season Sparta Belfast completed the domestic league and cup double and last week won the Irish FA Foundation Shield against Belfast United in the curtainraiser to the new season.  The club will now look to defend their titles in an expanded domestic format with matches being played on Sundays at venues across the country from September to June. The league has again increased in size, reflecting the growing popularity of the sport across the country. The league kicks off this weekend with 10 teams battling it out to become champions and Northern Ireland's representative in the UEFA Futsal Champions League.
Northern Ireland futsal manager Jonathan Michael said: "I am encouraged that we have been able to add more clubs to our domestic programme this season and increase the competitive opportunities. The introduction of our sponsor in Cathedral Eye Clinic will further enhance the league and provide greater exposure for all the clubs."
Jonathan added: "We have also put in place an exciting club development plan and coach education opportunities that will increase the quality of coaching within each club and also improve their administration and marketing off the court. This season promises to be the most competitive to date and I would encourage people to come along to the matches to watch this exciting and fast paced game in action."
Information about the Northern Ireland Futsal League can be found via the futsal domestic pages and by clicking here. 
#GameChanger #CathedralEye