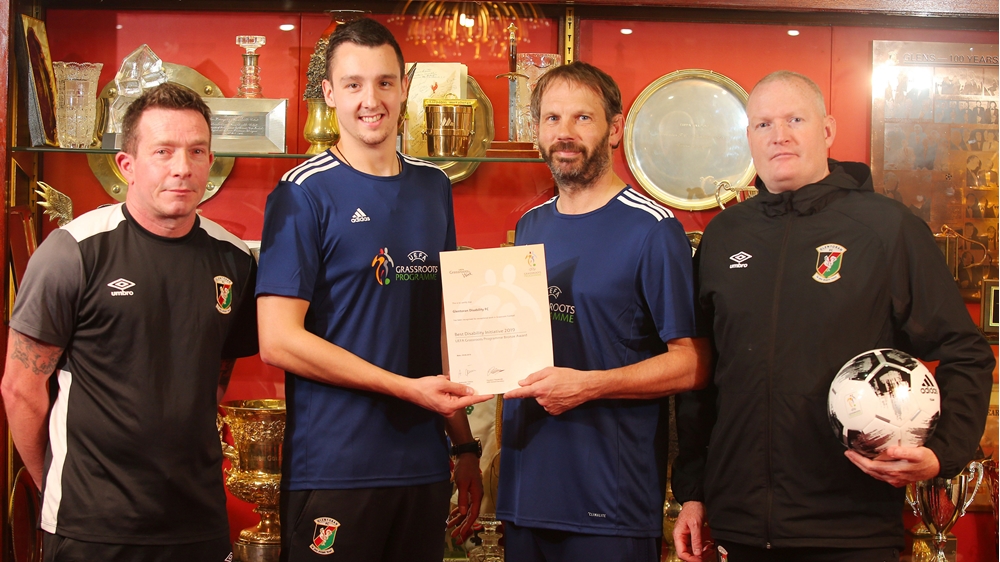 East Belfast club Glentoran's disability section has won a major UEFA award.
The executive committee of European football's governing body has chosen Glentoran Disability FC as a silver prize winner in its annual Grassroots Awards.
The award, in the category for best disability initiative, is given to "an outstanding grassroots football project for people with disabilities". 
The executive committee said the Glens were "a deserving winner" of the silver award.
Irish FA Foundation Disability Officer Alan Crooks presented a specially produced UEFA certificate to Glentoran Disability FC, while the club also received 100 footballs to support its grassroots activities.
Stephen Lowry, Academy Development Manager at Glentoran, said: "Having been involved way back in the beginning when we amalgamated Belvoir Blades disability group into our club to become Glentoran Disability FC, it has been a real joy watching our disability section grow over the years into the success it is today. 
"From its humble beginnings we now have around 60 disability players with approximately 25 of those being juniors under the guidance of head coach Mark Smith and the rest seniors under Jordan Wray's leadership." 
He explained all the disabled players take part in regular weekly training sessions and enter into IFA Foundation games programmes. 
And he added: "Alan Crooks of the IFA provides a great support network and all of our coaches and players are fully engaged and enjoying the game. 
"I would like to give special thanks to all of the coaching staff involved in the GDFC section but in particular to Mark and Jordan as without their commitment and wonderful voluntary service it just wouldn't be possible. 
"It's guys like this who help the club win prestigious awards such as this UEFA award and the Queen's Award for Voluntary Service which we won last year."
GDFC Juniors head coach Mark Smith said it was "a privilege" to receive the grassroots award from UEFA.
He pointed out: "I am grateful for the opportunity Glentoran academy and club have given me to grow and develop the junior disability squad into what it is now, a successful growing set of players who train, develop, play and improve week in, week out. I love what I do and working with the kids, who always give their all, is a real joy."
And fellow coach Jordan Wray said he was "extremely honoured" to receive the accolade.
He said: "It is absolutely fantastic to see how far the senior disability section has come over the years and it is developing even further. 
"It has been such a privilege coaching each and every player over the years and seeing their passion for the game in each training session and match. It's incredible knowing that we are making an impact in each of their lives just by giving them an inclusive environment where they feel comfortable to play the sport that they love despite their disability."
A UEFA spokesperson explained UEFA Grassroots Awards are given in recognition of exceptional work in grassroots football. 
And he added: "Football is built on the grassroots, which are kept alive by thousands of volunteers, projects and clubs across Europe. Our awards are designed to recognise, celebrate and promote this inspirational work."
Awards have been presented this year in five categories: best grassroots leader, top grassroots project, top grassroots club, best disability football initiative and best professional football club.
The presentation of the award to Glentoran Disability FC comes during UEFA Grassroots Week (23 to 30 September), which is a celebration of grassroots football right across Europe. It is run in conjunction with the European Week of Sport and in co-operation with the European Commission.
Image: Glentoran Disability FC coach Jordan Wray receives the UEFA silver grassroots award certificate from the Irish FA Foundation's Alan Crooks as Mark Smith and Stephen Lowry look on.