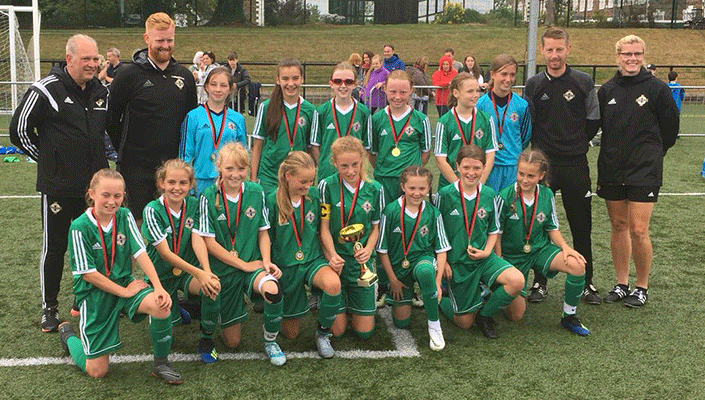 Two girl development squads had successful results as they took part in the 2018 Foyle Cup.
The Under 11's (2006) claimed the better finish as they won the plate section of the tournament to finish 17th out of 60 teams. The Under 13's (2004) also had a good week by finishing 12th out of 32 teams.
Both sides were competing against boy's teams a year younger and showed the progress of their respective squads.
It was the Under 11's who came home with the plate after finishing 3rd in the six team Group A with wins against Tristar Colts (2-0), Phoenix (1-0) and Aileach (1-0).
That led them into the plate section of the tournament and they showed their quality with four straight wins against Maiden City (3-2), Strabane Athletic (3-1 on penalties), Limavady Colts (4-0) and Eglinton Eagles (4-0). That final victory against Eglinton gave them their highest potential finish of 17th.
The goals were spread throughout the team as Aimee Kerr, Rebecca Mann and Abi Sweetlove all scored three a piece, Rhian Weatherup and Niamh O'Donnell got two with Katie Markey also getting on the scoresheet.
The Under 13's finished 2nd in Group C after wins against Maiden City (4-0), Newhill (2-1) and Dergview (2-0) and suffered the one loss to group winners Donegal SBY.
However their plate run finished early with a 2-0 loss to Bertie Peacock followed by close 3-2 defeat against Altrincham to leave them still with a high finish of 12th out of 32 teams.
Ellie-Mae Dickson topped the goalscoring charts with three goals, Caoimhe Mulholland was just behind with two and it was a goal a piece for Eve Reilly and Erin Montgomery.