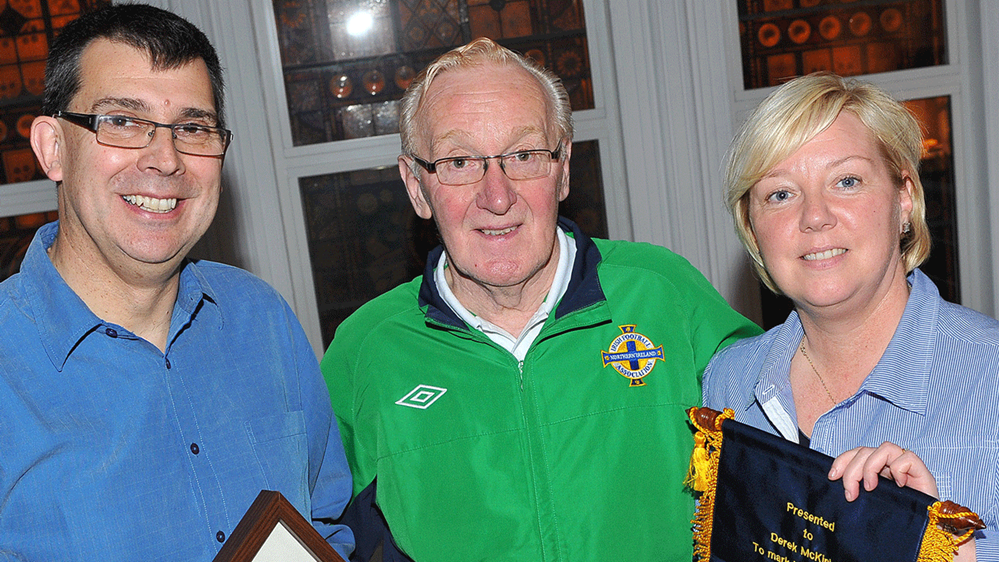 In an ongoing Q&A series we are highlighting the people who make the Irish Football Association tick.
Name: William Campbell.
Job title: Head of CEO Office.
What does your role entail? I provide support and assistance for the CEO and President, focusing on 'participative governance', namely the Irish FA Board, Stadium Development Company Board, Foundation Board, the IFA Council and Appeals Committees. I have responsibility for rules and regulations, including the Articles of Association, and the interaction between the IFA and UEFA, FIFA and IFAB (International Football Association Board) and I represent the IFA on the IFAB technical sub-committee. 
You are the longest serving current Irish FA staff member. Talk us through your 35 years with the association. I started in July 1983 and within three years I was travelling to the World Cup in Mexico with Billy Bingham and the team. Having a World Cup on my CV is particularly special. For 20 years I was responsible for finance and for 30 years I was selling the tickets and acting as international match manager. I began my present role in January 2014.
Describe a typical working day for you. For most of us in the IFA there is no typical day. What keeps us going is the interaction with the people both inside and outside the association. It will be a mixture of answering queries, dealing with correspondence and dealing with Board members and advising on rules, articles and so on.
What's the best thing about your job? There are two things. Firstly, the people. That includes those working inside the IFA and those involved with the game on the 'outside'. The game is dependent on having the right people doing the right things and there are a lot of very good people involved in football in Northern Ireland. Secondly, the football. I would contend that there is probably no greater fan of the Northern Ireland team than me, although my big brother (who took me to my first match) would contest that claim. Being in a position to see the workings of the national team and being able to enjoy the football is always a thrill. I love international game day.
What are the biggest challenges you face in your role? The uncertainty of what is coming next. You can influence those things you have control of, but there are so many things outside our control which have a bearing on what we need to do or how to react. It is exactly what makes the IFA exciting and captivating, and while the faces might have changed over the years the challenges remain largely the same.
What are you most proud of? 110 internationals between 1983 and 2014 as match co-ordinator/manager, starting with Austria in September 1983, and including England in 2005 (Healy!), Spain 2006 (Healy hat-trick), Denmark in 2007 (the downpour), Poland 2009. Great games, memorable nights and a little boy's thrill to be involved. I once estimated that I had sold over one million tickets in that time. I am also intensely proud of my work with IFAB on the laws of the game. I was responsible for the changing of the law regarding equalisation of players in penalty shoot-outs. I was involved from the beginning of goal-line technology up to its adoption and since 2016 I have been involved with VAR through its inception, its infancy and I am delighted to see how well it is performing in Russia. I have also hosted the IFAB AGM on five occasions. Being given the responsibility of representing this wonderful association internationally has been a privilege and a pleasure.
Who (if anyone) has provided inspiration for you during your career? Far too many to name them all… but here goes. All the IFA presidents I have been fortunate to work with - Harry Cavan, Jim Boyce, Raymond Kennedy, Jim Shaw and David Martin - have been helpful and have each brought a little of their personality to the role. Eddie Barry, former IFA treasurer, was a gentleman and very helpful in my early years in the association. It was a delight to work with Billy Bingham and Lawrie Sanchez who each operated in a very different way, but were successful in doing so, and Michael O'Neill has many of the same traits - and they are all winners. David Bowen, who was General Secretary between 1983 and 2004, taught me more than I can remember about the game and gave me many opportunities. The current chief executive, Patrick Nelson, has delivered in the stadium what others couldn't and has remained a constant support and friend. And, finally, all of my friends within the association (you know who you are). 
What advice would you give to someone starting out? The IFA is a wonderful institution. Enjoy it. We must remember it is not about us but about the game and those who play the game. I have an old picture on my wall of the IFAB in 1928 (contrary to the rumours I am not in it!) which reminds me that we are merely stewards of the association and our responsibility is to pass on the association to the next generation in a better condition than we received it. 
Images: William Campbell (left) and Irish FA colleague Glenda Dines make a presentation to former Northern Ireland kitman Derek McKinley to mark his retirement in October 2011. Inset: William as he is today.