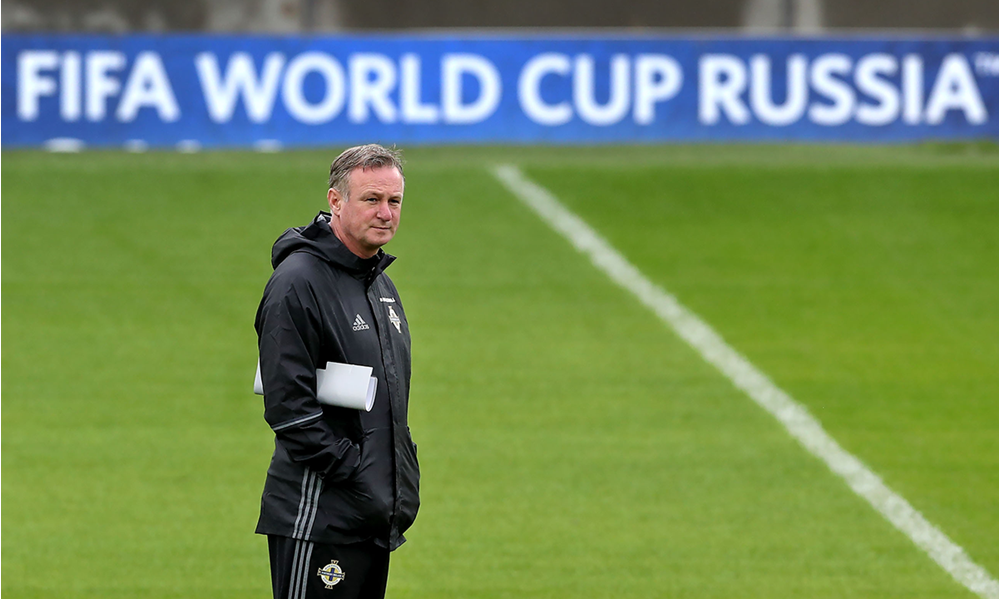 Northern Ireland manager Michael O'Neill believes Brazil will be crowned world champions on 15 July. 
Michael, who has been working as a pundit for RTE and other broadcasters during World Cup 2018, is predicting the Samba boys will face England in the tournament decider in Moscow.
And he feels the Samba boys will ultimately triumph over Gareth Southgate's team to lift the trophy.
Focusing on the last eight of the tournament in Russia, which he says has been "very exciting", the Northern Ireland boss believes Uruguay, Brazil, England and Croatia will make it through this weekend.
First up is the Uruguay v France quarter-final tomorrow (Friday 6 July, 3pm kick-off) in Nizhny Novgorod. 
Michael said: "Uruguay will win it. Mind you, it depends if (Edinson) Cavani is available. If he is not fit then France might do it. However, Uruguay are strong defensively and have a great attack. 
"France are still inconsistent. They were great against Argentina (in the Round of 16) but they did concede three goals. Uruguay give nothing away at the back and they possess the twin threat of Cavani and (Luis) Suarez going forward."
The second quarter-final sees Brazil take on Belgium in Kazan (tomorrow, 7pm start). Michael said: "I think Brazil will win it. They are getting better with each game and I believe they have a lot more to show. Belgium have great players but Brazil also have top players. I think Brazil have not hit top form yet."
On Saturday the third last eight tie is between Sweden and England in Samara (3pm).
"England will win that one. They carry a bigger attacking threat. Sweden are very defensive and they have done well to reach this stage. England are good at set pieces and they have the players to win it, and they are players who are growing in confidence," said the Northern Ireland manager. 
"The penalty shoot-out against Colombia (Round of 16) showed what England are made of. I have been impressed by them in this tournament. For me Sweden do not have enough firepower, while England have enough firepower to hurt the Swedes."
The fourth and final quarter-final match, again on Saturday, will see host nation Russia take on Croatia in Sochi (7pm). 
Michael, who is celebrating his birthday today, said: "This will be the end for Russia. They did great to hang in there and put Spain out on penalties (Round of 16) but I think Croatia will have too much for them. 
"Croatia have a physical presence and (Luka) Modric, (Ivan) Rakitic and (Mateo) Kovacic have been the best midfield at the World Cup. They have a good balance to their team, with the right players in the right positions."
If Michael's quarter-final predictions prove correct then Uruguay will face Brazil in St Petersburg on 10 July (7pm) for a place in the final – with Brazil progressing.
"There's a mental block for other South American countries when it comes to taking on and beating Brazil. I think Brazil have more depth to their squad. Uruguay play the same team all the time but Brazil can freshen things up, and Neymar might just show off his good side," he said. 
The second semi, according to the Northern Ireland manager's predictions, would see England take on Croatia in Moscow's Luzhniki Stadium on 11 July (7pm).
"I think England will win it. I have a feeling that they will have enough. England have not been in a World Cup semi-final since 1990 but they have enough in their current squad to deal with this game. I think they will continue to get stronger," said Michael.
So the final in that case would be between Brazil and England at the Luzhniki on 15 July (4pm start).
And Michael believes Brazil will ultimately triumph. "Brazil have the best depth to their squad and have lots of options, and for that reason I think they will win it," he said.