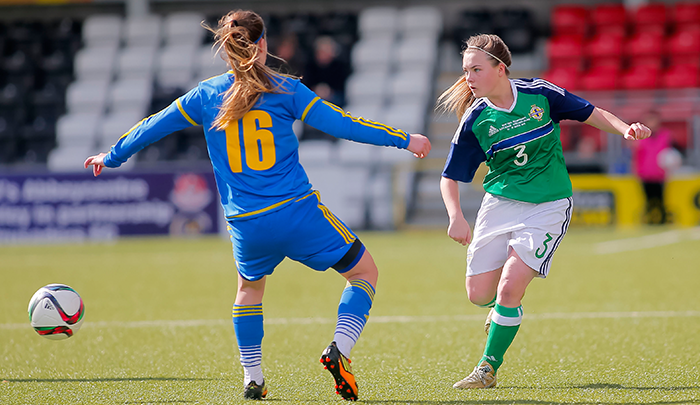 Northern Ireland Women Under 19s have begun their Home Nations tournament in England with a win over the Republic of Ireland. 
After taking an early lead through Rebecca McKenna, the Republic of Ireland hit back in stoppage time to take the game to penalties. 
Lauren Perry saved two penalties before two Northern Ireland misses meant they went to sudden death. Perry pulled off the save meaning Lauren Robson's penalty sealed a great win for the Under 19's.
Northern Ireland started off brightly with Louise McDaniel just failing to get on the end of a McKenna cross after two minutes however their positive start was rewarded with under five minutes gone.
Megan Bell and Emily Wilson combined to play McKenna in and her pace was too much as she fired into the roof of the net from 15 yards.
As the half progressed the Republic of Ireland came into the game and were unlucky not to score when they hit the post with 30 minutes gone.
Just before half time, A Bell corner found Yasmin White who was unlucky not to double their lead. But White soon became hero as she recovered to clear a shot off the line.
The second half saw few chances and looked to be heading to a 1-0 win for the Under 19s however with two minutes of added time remaining, the Republic of Ireland attacked and fired past Perry to take the game to a shootout.
However, Perry would soon be smiling again as she saved a sudden death penalty to set up Robson and give Northern Ireland the victory.
Next for the Women Under 19s is England on 16 July.
Northern Ireland: Perry, McMaster (Hamilton), Burrows, White, Robson (Donnan), McKenna, Bell, McPartlan, McDaniel (Collighan), Orr (Canavan) , Wilson (Finnegan) subs Hopwood, Smyth, Donnan, Hamilton, Finnegan, Canavan, Collighan.