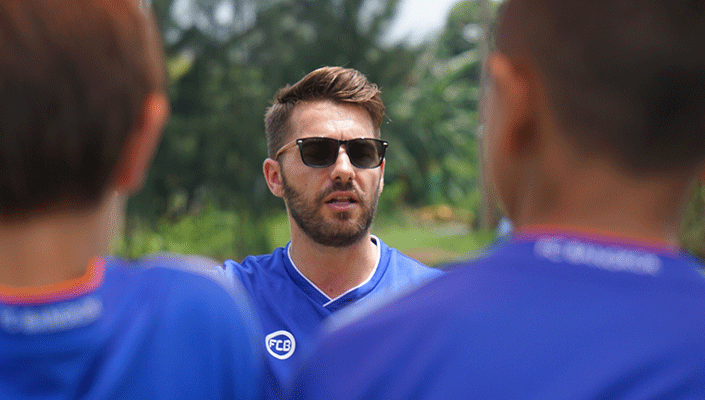 In an ongoing series we are highlighting people from Northern Ireland who are making an impact in the world of football right around the globe.
Name: Andy Clawson.
Where are you originally from? Carrickfergus.
What's your job? Founder/owner and managing director of FC Bangkok in Thailand.
Describe a typical working week for you. Being both a full-time coach and manager means I work some very anti-social hours but when you can work full time in football you can't really complain.
My week is a mixture of office hours consisting of coach session planning and periodisation for academy staff, national and international tournament organisation plus other generic event management such as charity days, coach education, camps and awards ceremonies. As a director of coaching I oversee 10 teams in the academy, from under-8 level to senior, and both boys' and girls' teams. 
What's the best thing about your job? Getting out on the pitch is by far the best part of my job. Having access to so many teams provides me with the opportunity to perfect many aspects of my coaching. My week is a mixture of foundation, development and performance squads so I have the chance to try many different coaching styles. I've become the coach I am today due to the hours I'm on a pitch (16 to 20 each week). This was something I found very difficult back home. Great coaches are restricted to one to two sessions a week, allowing minimal opportunity to experiment and challenge themselves. 
What are the biggest challenges you face in your role? Cultural differences and rival businesses/clubs with the wrong agendas. In Thailand it's difficult as a foreigner to influence leagues, associations and other clubs to change old and outdated attitudes.
Thailand is a developing country and the football market is exactly the same. In my five years here I have seen massive changes in the grassroots and pro youth systems. I'm proud to have helped as much as I could with this.
Sadly Thai football has been renowned for corruption but there are like-minded coaches and managers who see the potential here and work hard to help make the Thailand football scene better.
What qualifications do you have? UEFA A Licence (attained through Irish FA), Youth Licence (Irish FA), Club Licence (Scottish FA), Youth Licence Level 4 (Scottish FA), Children's Licence Level 4 (Scottish FA), C Licence (The FA in England).
Where did you work – and in what roles – before taking up your current post? Academy coach at Hearts FC in Edinburgh, coach at Manchester United, coach on Coerver Coaching Elite Performance Programme (Scotland and UK North) and coach on San Jose Earthquakes community programme in California, USA.
Favourite team/s? Liverpool.
Favourite managers/coaches? Jurgen Klopp, Pep Guardiola. I was a big fan of Brendan Rodgers until he went to Celtic LOL!
Favourite player/s? Steven Gerrard, Iniesta. 
Who (if anyone) has provided inspiration for you during your career?Coaches who inspired me are grassroots and academy coaches from my time at Hearts and Manchester United. Their knowledge, passion and reasons for coaching are not extrinsically motivated and every session was exciting and rewarding. I also met some quality coaches when gaining UEFA licences and Irish FA coaches have been great, too.
Are you involved in any other sports apart from football?Boxing. I train three to five times a week and fight occasionally for charity. I encourage players in the foundation stage to sample a lot of sports but then they must choose and focus.
What advice would you give to someone starting out? If staying at home you must work with the Irish FA, get licensed and learn from experienced coaches, then volunteer as much of your time at local clubs. Session planning is important but you need to be on the pitch continuously to get your ideas across to players.
Alternatively you should see the world and experience other football cultures and methodologies because I can guarantee you one thing: no-one has the correct formula. Football changes and adapts and so must you. Also learn a language. If you want to work high level you must speak the lingo. Remember that you're up against other coaches from Europe with the same licence as you and the same experience but they can speak five languages.
What are you most proud of?I came to Thailand with a pair of boots, no money and a suitcase. Within four years I have founded a club that now has a fully functioning academy system leading to a senior team in the professional game. We are now ranked number one in Thailand for grassroots player development.
I want to highlight the sheer amount of hard work it has taken to get to this point but it's done and been proven successful. For talented lads back home with the correct work ethic and morals just know that it can be replicated but no-one is going to do it for you.
Any other interesting facts about you that we should know? I hope to develop my own coaching career and step into first team football in the next five years.