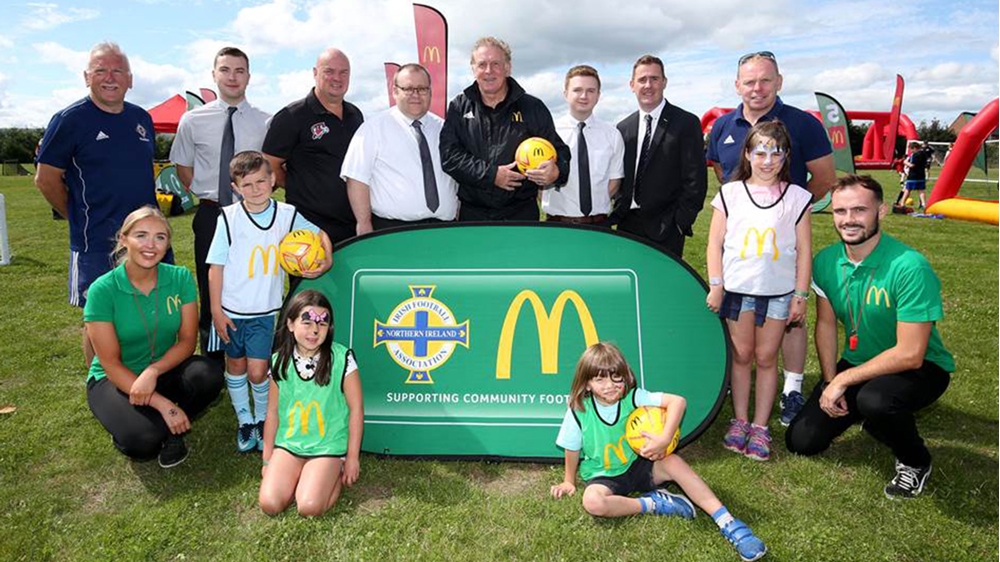 Last weekend McDonald's and the Irish FA brought their largest ever Community Football weekend to various locations across Northern Ireland.
Some of the local grassroots football clubs included Tollymore United FC (Newcastle), Maiden City FC (Derry/L-Derry), Carrick Rangers FC (Carrickfergus) and Riverdale FC (Benburb).
The Community Days had everything from bouncy castles and football games to music and fun rides for children. 
More than 300 children attended the event at Maiden City Soccer on Sunday 29 July with Gerry Armstrong in attendance as special guest. You can see a gallery of images from this event at the bottom of this page. 
To find out more about the McDonald's and Irish FA community partnership and how your club can benefit and for details of other Community Football Days by visiting www.mcdonalds.co.uk/betterplay
In another fantastic addition to these events, former England and Arsenal star, Martin Keown attended Riverdale FC on Saturday and Carrick Rangers on Sunday to spend time with the children. 
The Community Football Day events are part of McDonald's community partnership with The Irish FA. McDonald's is the longest standing supporter of grassroots football in Northern Ireland and continues to champion those who enable children and young adults to play and enjoy football regardless of gender or disability.
The programme focuses on inclusivity through supporting accredited grassroots clubs and their volunteers to raise the standards of grassroots football as well as improving the grassroots experience for young aspiring footballers.
Pat Jennings, Northern Ireland's record cap holder had this to say about the Community Days:
"The McDonald's Community Football Days simply get bigger and better each year. Any club which is fortunate enough to host one of these events is in for a day of great fun, participation and inclusivity for children and their families.
"I would encourage families from the local community to get behind these events by attending and enjoying the amazing facilities provided by McDonald's and the Irish FA. With thousands of children set to get involved, this will be a memorable weekend."
If you would like to know more about McDonald's Community Days and how you could get involved in the future you can download the information pack by CLICKING HERE. 
Photo: Joe Doherty (IFA), Kevin Doherty (IFA), Paul Kee (Maiden City), Claire Anderson (Hubbub), Gerry Armstrong, Ryan McKeegan (McDonald's) Jordan Hamilton (Hubbub), Aaron McGinty (McDonald's), Dermond Rooney (McDonald's), Ray Hutton (McDonald's), Reuben McGonagle, Katie McDermott, Anna McDermott and Conor McDermott.
McDonald's Community Days