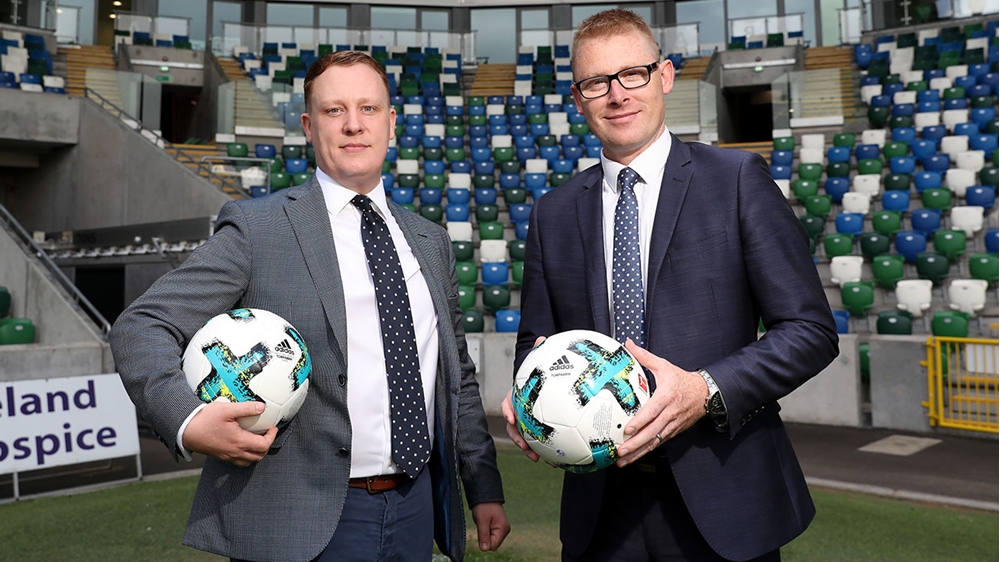 With only four spaces remaining, the UK's largest independent telecommunications provider, Onecom, is issuing a call for businesses to lace up their boots for the Onecom Business League.
The five-a-side football tournament, in association with the Irish Football Association, kicked off last week with matches being played at Playball, Stormont and Olympia Leisure Centre. The 12 teams will compete for silverware, with each finalist receiving coaching from a "Legend of the Game".  All participating teams will be invited to a networking event at The National Football Stadium at Windsor Park for an end of season awards ceremony. 
After last year's successful launch, won by FinTrU, the tournament is returning for a second year with a number of changes.  The Olympia Leisure Centre will host a number of the league matches.
Paul Lawther, Head of Onecom in Northern Ireland, commented: "Last year's inaugural tournament was a great success and brought together companies from different sectors of the local business community. The Onecom Business League provides an opportunity for companies to network in a fun sporting environment and we're excited to get the new season underway.
"We've revamped aspects of the tournament and we're offering a once in a lifetime prize of being coached by a "Legend of the Game". There are only four spots remaining so we would encourage teams to enter as soon as possible." 
Simon Fitzpatrick, Director of Sales & Marketing at the Irish FA, said: "The Association is delighted to be working with Onecom as a sponsor of the Business League for a second year. The Irish FA's mission is to promote, foster and develop football for all and the Onecom Business League fits with our commitment to growing participation at all levels.
"It provides a fun and competitive sporting activity for employees, and an opportunity for employers to invest in health and wellbeing. We look forward to bringing companies across Northern Ireland together through football."
Entry is strictly limited to 12 teams and will be allocated on a first come, first served basis. Teams can name a squad of up to ten players to compete in the 14-week league.
To register please CLICK HERE

PHOTO: Pictured (L-R) are Paul Lawther, Head of Onecom in Northern Ireland and Simon Fitzpatrick, Director of Sales & Marketing at the Irish FA.