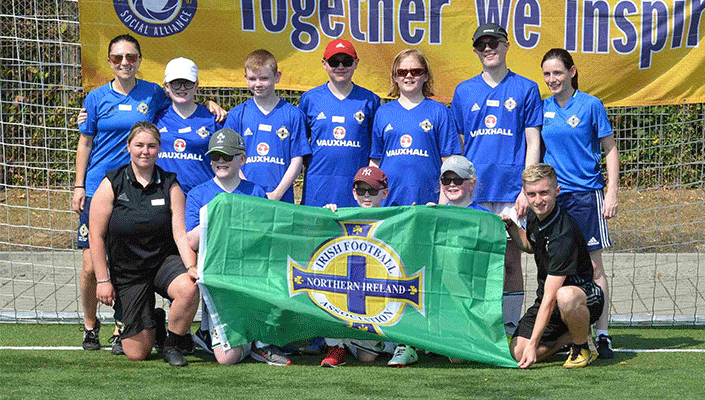 From 22 to 27 July 2018, a team from the IFA joined up with six other clubs of the Football Club Social Alliance (FCSA) and their disability football teams in Basel, Switzerland, for a week full of football and other recreational activities.
This year was the 12th edition of the Special Youth Camp. Every year, since 2007, European football clubs and associations have been going to Basel for the football and adventure camp for children and youth with mental and/or physical disabilities. It is a truly unique week where children and instructors alike make friends, learn new things and have a lot of fun.
In this year's edition of the Special Youth Camp, the participants of the Irish Football Association, SV Werder Bremen, Bayer 04 Leverkusen, FC Schalke 04, 1. FSV Mainz 05 (Germany), FK Austria Wien (Austria), and FC Basel 1893 (Switzerland) experienced an action-packed week.
The week included several training sessions on the football pitch, a test of courage in the climbing forest, a lot of emotions during the mini-World Cup tournament, a city tour, and a tour of FC Basel's stadium. The highlight of the week for many was the football festival at FC Basel's training ground with a number of professional players from the youth and first team squads.
Clare Carson, an instructor from the Irish Football Association highlighted how the mix of football and other activities is great for the participant's personal development, stating, "There is a great range of activities both on and off the pitch. In terms of the social side of it they can learn more about themselves as people and come out of their shell and develop personally as well as the football side of it."
She added, "For me it's all about seeing the kids grow over the week. Seeing their development off the pitch and how that's had a massive impact on the pitch when they come to play their football, is what it's all about for me."
Lewis, a participant from the Irish Football Association stated that he learned how the language barrier between the German and English-speaking groups was not really a problem for them: "Integrating with people and knowing that language barriers don't really necessarily stop you playing with other people."
In addition to creating an unforgettable week for the participants, the Special Youth Camp provides a platform for 20 Young Coaches from the Tandem Education to demonstrate their coaching skills.
Brooke, a Tandem Partner from the Irish Football Association reflected on the week and described how this coaching experience has given her the desire to coach disability football moving forward: "Seeing everyone being included, everyone enjoying themselves, everyone making new friends even though there was a language barrier.
"If you needed help doing something there was always someone there to jump in and help you… Coming out of mainstream coaching and into disability coaching. I think I'd now prefer to coach disability than mainstream. No matter what their disability is they can still do it when it's broken down a bit."
The IFA has collaborated with the Scort Foundation since 2015. During this time, several disability football teams of the IFA have visited the Special Youth Camp. In addition to the Camp, the IFA partners the FCSA on the English-speaking Tandem Young Coach Education where coaches with and without disability are educated to become football coaches in disability football.