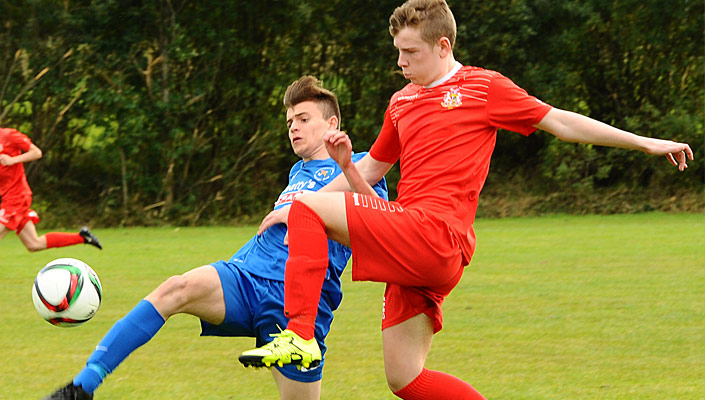 The "Tie of the 1st Round" of this years Harry Cavan had everything.
The game was only 4 mins old when Portadown's Adam Brown opened the scoring from a cross that found its way into the Ballanimallard net. 
After a period of pressure from the home side they got their second goal with a close range shot from Nathanial Ferris that gave the visitors keeper no chance.
As the game restarted Ballinamallard started to come back into the match with more vigour and on the 23rd min Kyle Coalter pulled 1 back for the visitors with an initial shot that the Portadown keeper couldn't hold and the ball bounced behind him and he could only watch Ballinamallard striker walk it into an open net.
Once again Portadown came back and got their 3rd on 39mins with a one on one on the goal line between the Ballinamallard keeper Jordan Coalter and Portadown's Peter Campbell which ended up in the back of the net.
Everything seemed to be going all Portadowns way when both teams lost a player with 2 straight Red cards on the 1st min of extra time.
Half Time: Portadown III's 3 - 1 Ballinamallard United III's
The second half again saw Portadown dominant and the pressure around the Ballinamallard goal was getting more intense and this led to Ballinamallard's Conall Quinn putting the ball into his own net.
Just as Portadown felt they had done enough and took their foot of the gas back came Ballinamallard with goal from Jordan Breen after 65 mins.
The rest of the second half became an end to end game with no final cutting edge.
The final whistle came and Portadown had done enough to see themselves into the second round draw.
Full Time: Portadown III's 4 - 2 Ballinamallard United III's