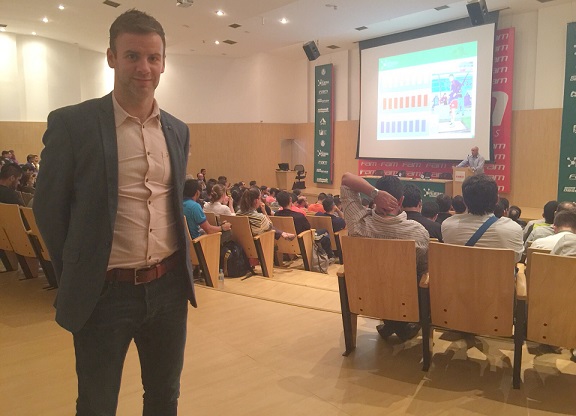 'The Palmeiras Club couldn't have been more friendly and I spent some time at with their sports medical and performance teams at their magnificent facilities', said Conall, who wants to return to the Club some time.
Palmeiras, the largest and most successful soccer club in Brazil, hosted a major congress which was addressed by leading academics and practitioners covering topics such as Technical Training-Tactical, Physical Preparation, Genetics, Control and Load Monitoring, Performance Analysis, Sports Medicine, Prevention and Rehabilitation, Nutrition, Doping, Sports Management, Physiology, Technology and Young Footballers training.
The former Crusaders and Wrexham player used his spare time in between playing to study at Manchester University and it has all come to fruition with excellent opportunities coming his way.
Conall is in the final few months of completing his PhD in Genetics, Performance and Muscle Power, described as 'cutting-edge research which will have profound consequences for player recruitment by clubs and academies. The research will also inform coaches on maximal performance and improvement levels for elite players and young players aspiring for the elite soccer level. It is a joint venture with Liverpool FC where Conall works as an Elite Performance Coach/Sports Scientist, and Liverpool John Moores University.
'I have always been interested in sports science research which would have a direct impact on practice where we can use independent scientific methods to help determine which players are most likely to be able to perform best at the highest level', said Murtagh on his return from Brazil.
Conall was also a speaker at the 20th Annual Congress of the European College of Sport Science 2015 in Malmö, Sweden, in June this year.
Ironically, Conall was captain of the first ever NI National Team to beat Brazil in the 2004 Milk Cup. A central midfielder, Murtagh has competed in four Champions League/Europa Cup campaigns scoring his first goal in July 2015. Murtagh is a former NI Under 21 international player and is current captain of Bala Town FC in the Welsh Premier League.