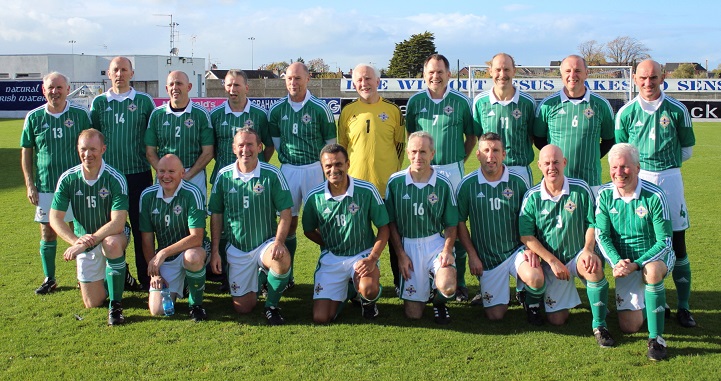 It was a sunny afternoon in Lurgan which set the tone for an afternoon of flowing football and goals.
Making their debuts for Northern Ireland were former Derby County and Glentoran star Barney Bowers and former Glenavon player and manager Terry Nicholson.
The opening fifteen minutes produced chances for both sides as Jim Gardiner went close with two half chances while seventy-two year old Terry Nicholson pulled off two outstanding saves.
After the initial period of getting to know each other's strengths and weaknesses Northern Ireland veterans stepped up the pace with huge effect.
The evergreen Jim Gardiner produced two moments of magic to cruise Northern Ireland into a two goal lead.
With only five minutes remaining of the first half Portadown wing wizard Terry Diamond cut in from the left side and unleashed a pile driver which flew into the England net giving keeper Wallington no chance.
Northern Ireland came in at half time with a three goal lead which under the circumstances flattered them.
In the second half England upped their game with an introduction for fresh legs which put Northern Ireland on the back foot for long periods.
England got their just rewards when centre forward Jennings stroked the home from twenty metres after some slack defending from Northern Ireland who failed to defend a corner properly.
In the end it wasn't enough and Northern Ireland held on for a well-deserved three, one victory.
Northern Ireland player managers Ronnie Haughey and Dessie Edgar were delighted with their team's performance.
Ronnie commented; "To beat England at any level of competition is a pleasing one and does not come easy."
"We had to work very hard today but the most pleasing aspects from today's game was the performances of former stars Jim Gardiner, Barney Bowers and Terry Nicholson whose class was on show for all to see."
Chairman of Northern Ireland veterans football Seamus Heath expressed his thoughts on today's proceedings; "The whole day was just perfect. The players from both sides were delighted to showcase their skills and guile at a fantastic stadium but the performance of seventy-two year old Terry Nicholson was the icing on the cake."
"For a man of that age to be able to play and enjoy his football speaks volumes of the man."
"He is our inspiration and a credit to life."
Veteran's football would like to thank Glenavon football club for all their hospitality.
Next up for veteran's football is a visit to the north west of England and north Wales in two weeks' time to play Wrexham legends, visit some league academies and watch both a premier league and championship match.
Anyone wishing to get involved in veterans football or receive further information can contact the Ifa's RGDO Seamus Heath at: seamus.heath@irishfa.com or call 07515062882.