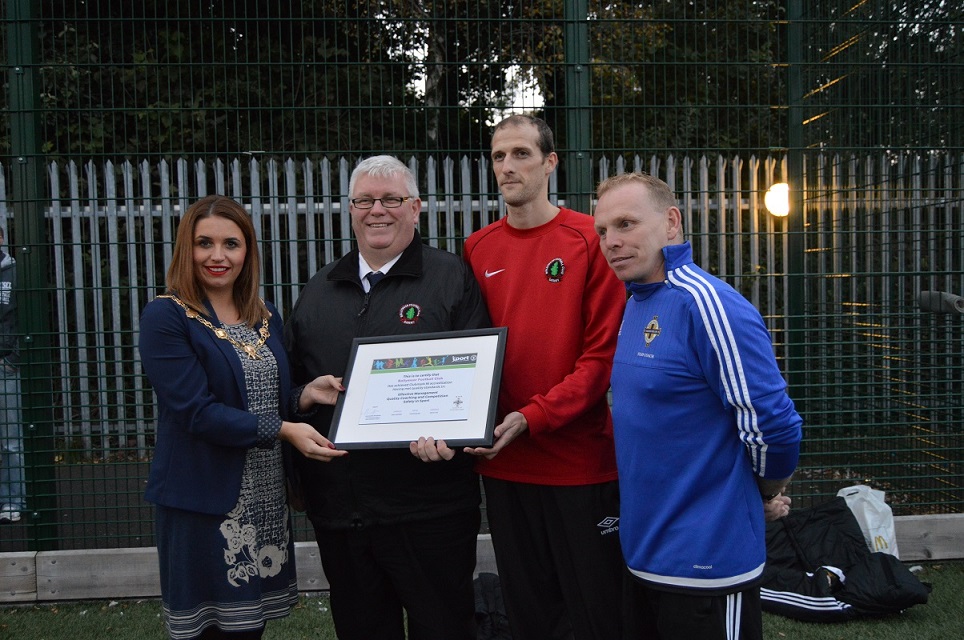 The IFA Grassroots Small Sided Games Programme is designed to provide a safe, pressure-free learning environment focused on player development. Although competition is a central element in a player's development, a competitive environment should not be a result-orientated environment. Results are therefore not recorded and there are no league tables as coaches are encouraged to focus on player development.
Speaking at the centre the Mayor of Derry City and Strabane District, Councillor Elisha McCallion, said: "I'm delighted to lend my support to this programme as it provides a great opportunity for young local soccer fans to enhance their skills in a friendly and positive environment. The Irish FA Grassroots Small Sided Games Programme promotes both physical well being and social interaction, and as a mother of three energetic young boys I know how important it is to keep children active and involved in activities outside of school. I want to congratulate the organisers for their valuable work in supporting our young people and developing new talent."
Another aspect of the programme is to encourage clubs to attain the Irish FA Clubmark standard which ensures effective governance and duty of care to all. Local clubs Ballymoor FC & Trojans YFC are 2 such clubs who have attained the McDonalds Foundation Club Mark and have now progressed to the next level.
Local Irish FA Grassroots Development Officer, Kevin Doherty explains, 'The Irish FA Grassroots programme has worked closely with the district council for nearly ten years. I am delighted to see the mayor of the new council visit the small sided games programme and recognise the fantastic work that all of the local clubs are involved in. The programme is growing year on year. Now operating 3 nights per week, I would like to thank facilitators and staff for ensuring the programme is a huge success.'
Programme highlights:
· 25 clubs (68 teams) participating in the Derry/Strabane area
· 3 Venues – St Columb's College, Derry, Magee University, Derry & Castlederg High School
· Coach education bursaries for clubs participating in Club Accreditation Scheme
· Coach Masterclass workshop opportunities
· Club & Coach Awards recognising local volunteers
The small sided games programme is the number 1 objective from the new Irish FA Youth Strategy 'Let Them Play'. To find out more about any other programmes please go to: www.irishfa.com