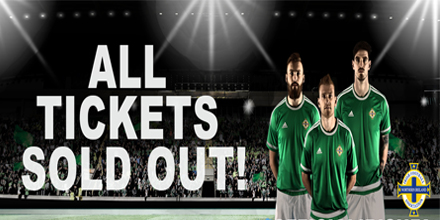 The extra 1500 tickets made available to fans for the forthcoming Northern Ireland v Greece game were snapped up in three minutes, it was confirmed today.
Ticketmaster, which handled the online ticket sales, said demand far exceeded supply.
And it revealed there was actually sufficient demand to sell in excess of 20,000 tickets.
The Irish Football Association is delighted with the response to the release of extra tickets for the crucial UEFA Euro 2016 qualifier against Greece on Thursday 8th October (7.45pm kick-off).
An Irish FA spokesman said: "All available tickets were snapped up within a few minutes of going live and this unfortunately left a lot of fans disappointed.
"The big demand for tickets shows these are exciting times for Northern Ireland football fans and the demand augurs well for the upcoming sale of tickets for the World Cup qualifying campaign which gets under way next autumn."
Due to the release of the extra tickets the capacity at the National Football Stadium at Windsor Park will be 11,700 for the Greece game.