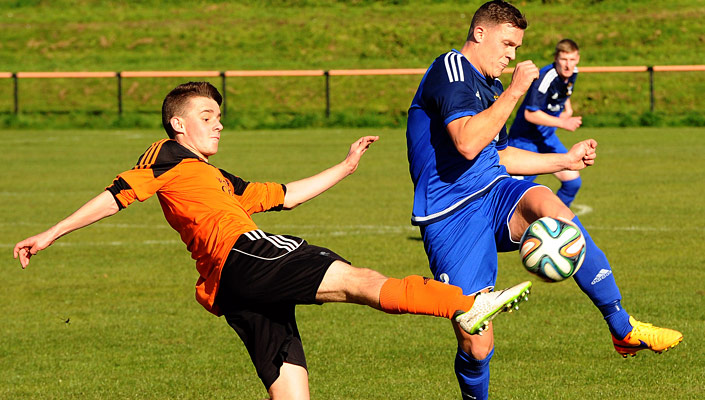 Woodvale 2 - 3 Harrville Homers 
Todays "Tie of the Second Round" of the Irish FA Junior Cup saw the past holders Woodvale (2010-2011) play the current holders Harryville Homers who produced a 17 -0 win in their previous round.
In a sun drenched match both teams came out on the offensive and after a period of long balls from both teams it was Woodvale who took the lead with a well worked pass which found their no 3 Samuel Parkinson who made no mistake in finding the back of the net.
Just as we got to about midway into the half the Harryville keeper made a last ditch attempt at a clearance just outside his 18yrd box and sent the oncoming Woodvale player sprawled on the ground. The Ref took a hard long look at the incident and in the end gave the keeper a yellow card to the dismay of the home team and supporters.
As the match went on the visitors started to display an advantage and they got their reward on 41 mins with close range tap in from a corner by Alan Rainey.
The tie stayed all level to the break and both sides got a well earned breather.
Half Time: Woodvale 1 - 1 Harryville Homers
Woodvale came out the stronger and on the 50th min after a well worked move on the left the pass came into the centre of the pitch just outside the Harryville 18yrd box which gave Woodvale's Kyle Dillon a perfect opportunity for a powerful lowly driven shot that gave the Harryville keeper no chance. 
Once again Harryville came back strong and after 55 mins a surging run down the right by Rainey got a perfect low pass across the box for Ricky Nicholl to dispatched it at close range past the grounded keeper.
As much as Woodvale tried they just couldn't match the workrate of Harryville and on 75 mins it was that man on the right for Harryville Rainey who again weaved his magic and again got the low cross in and this time the "Man of the Match" Paul McNeill made it count and all but sealed the game.
Both sides battled hard and in the end the current holders Harryville took the tie which sends them into the 3rd round draw of the Irish FA Junior Cup.
Full Time: Woodvale 2 - 3 Harryville Homers