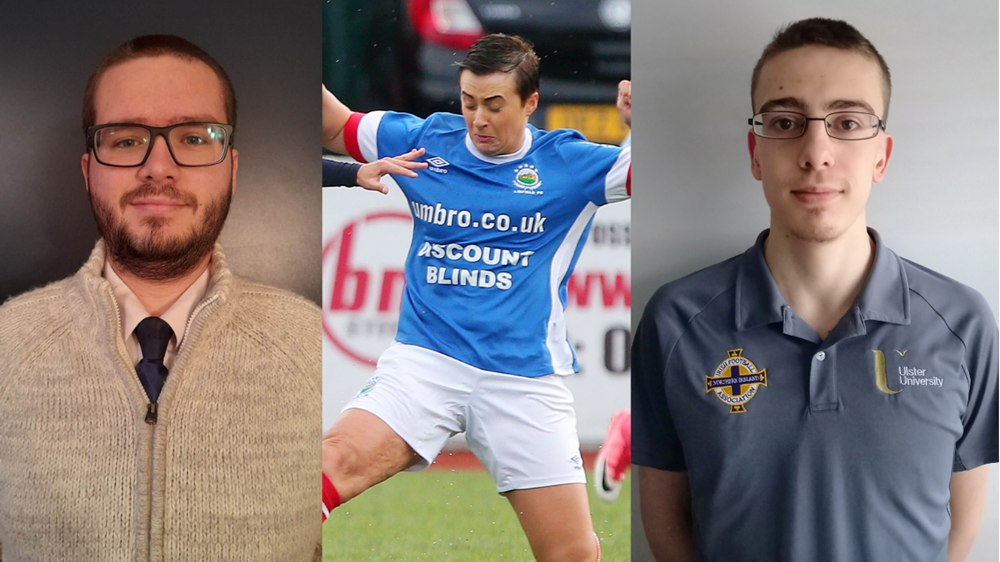 Image: Matthew Bailey, Lyndsay Corry (seen here in action for Linfield Ladies in 2017) and Mark McAlister are all enjoying the BSc Hons Football Coaching and Business Management degree course run by Ulster University in partnership with the Irish FA.
Students on a degree course run by Ulster University in partnership with the Irish Football Association have been singing the praises of the course.
The BSc Hons Football Coaching and Business Management degree is usually delivered on a fast track part-time basis at the National Football Stadium at Windsor Park, however during the Covid-19 pandemic it is being delivered remotely.
Co-designed by Ulster University and the Irish FA, the programme offers a pathway for experienced coaches, current players and those aspiring to progress within the football industry.
The innovative degree allows students to combine theory and practice with the completion of professional UEFA coaching qualifications along with an undergraduate degree. 
It has opened so many pathways and provides so many opportunities to explore within the football industry
Lyndsay Corry, Matthew Bailey and Mark McAlister each topped their respective year groups during the last academic year.
Lyndsay explained: "I am in year four of the course. It really was one of the best footballing decisions I could have made with the added benefit of having the educational purpose of hopefully achieving the degree at the end of it.
"I have played football from a very young age. Club-wise and internationally I achieved so much. I then went on and achieved my coaching qualifications and when the course became available I applied and it has been a great three years so far. 
"It has opened so many pathways and provides so many opportunities to explore within the football industry. While studying at the National Stadium we have the added expertise on hand of all the departments, from people who are working within the association, with lectures from all relevant departments there, too.
"It's not always about the 90 minutes on the pitch. Football is so much more and this course really does touch on every aspect of that. The course has helped me gain experience in the field of performance analysis which I want to progress further and specialise in as a career."
Lyndsay gave a special mention to course tutor Kyle Ferguson. She said his wealth of knowledge, guidance and support has been amazing throughout.  
"I would highly recommend the course to anyone who has an interest in working in the football industry," added the former Northern Ireland senior women's international.
Matthew Bailey enrolled on Ulster University's BSc Hons Football Coaching and Business Management course last year.
He pointed out: "Although I've never played football to a high standard, I have always loved and admired the sport, and I respect the work the IFA does on a local, national and international level. 
"This is what drew me to this course. The degree's combination of theory and practice, alongside being able to gain professional UEFA coaching qualifications, is providing me with the skills and experience necessary for embarking upon a career in football. 
"Throughout school I was a keen hockey player who became captain and went on to coach younger players. Recently I became a goalkeeping coach for Woodvale FC. 
"I've always enjoyed working within the community and Woodvale offered me the opportunity to put that into practice."
Away from his studies Matthew works as a Care Services Partner and manages a pharmacy team.
In his spare time he enjoys reading and he revealed one of his favourite books is Everton manager Carlo Ancelotti's 'Quiet Leadership: Winning Hearts, Minds and Matches'.
"It is not only a great insight into the game, but it also gave me confidence. It taught me that traits perceived as weakness can be used as a strength," he explained.
Mark McAlister has really enjoyed his experience on the course so far.
"It has been fantastic to hear insight from what it is like to work in the football industry from guest lecturers such as Patrick Nelson (Irish FA Chief Executive) and Jim Magilton (Irish FA Director of Elite Performance)," he said.
"In particular I enjoyed the Football Operations Management module and I am hoping to specialise within the events management sector within football after the course. 
"Currently I am on the third year of the course and I am looking forward to completing my work-based learning placement and taking the UEFA C Diploma coaching badge within the next year.  
"Outside of the course I am a massive Northern Ireland fan and have been attending home internationals regularly with my mum since 2006. Also in my free time I currently coach at Lisburn Ladies Under-15s and at my local community soccer school in Dunmurry while also volunteering to help out at my local Boys' Brigade company."
The course is delivered in four-day intensive blocks, covering everything from football policy planning and operations management to performance analysis and coaching science. 
Embedded within the course are internships and work placements, giving students first-hand experience of the industry and access to some of Northern Ireland's leading figures in football. 
For further details on the BSc Hons Football Coaching and Business Management degree click here