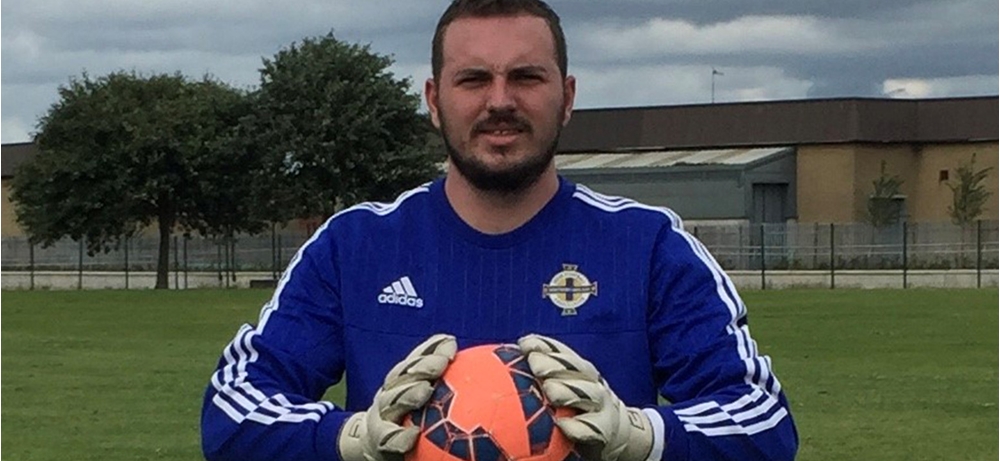 Goalkeeper Dylan McCready has been named as the Irish FA Foundation's Football For All player of the year for 2020.
The 26-year-old from Belfast has been participating in disability football since the age of 15 and it's proved to be a vital part of his personal development.
Dylan was diagnosed with autism at the age of seven and struggled with communication and social skills. He found it very difficult to cope in large social gatherings and suffered anxiety as a result.
His dad Colin, looking for something that could help with his son's confidence and self-esteem, improve his social skills and general fitness, and which would enable him to meet new people outside of his own bubble, decided football would help.
Dylan first started in disability football at the age of 15 at Belvoir Blades Disability Football Club in Belfast. He quickly got to enjoy football and meeting new people.
He found it difficult at first but with help from the coaches and other young people with similar difficulties as himself he felt comfortable and started to enjoy the sessions and really worked hard on his goalkeeping.
As his confidence grew his abilities between the sticks really shone through and he was selected to play in the Irish FA Disability League and cup competitions for Belvoir Blades.
Playing competitive football changed his life positively, both physically and mentally.
After a few years Glentoran FC started a disability team and took over Belvoir Blades. Dylan loved it and he went on to win the George Best Community Cup Premiership trophy, saving the final penalty in a shoot-out to help claim the prestigious prize for his club.
Dylan's father Colin revealed: "Disability football has changed Dylan's life in such a positive way. He is focused on improving, gaining confidence all the time and enjoying playing the game he loves. He has recently moved to Linfield Disability. Linfield are the club he supports so he is buzzing with excitement to get back playing as soon as possible."
Irish FA Disability and Inclusion Manager Alan Crooks added: "I am delighted for Dylan that he has won the 2020 Football For All player of the year award. It is richly deserved.
"I have watched him develop over the years into a top goalkeeper. He works hard at his game and he has a played a huge part in the recent success of Glentoran Inclusion FC and I have no doubt Linfield Disability will benefit greatly from having Dylan between the sticks."
Image: Dylan McCready is the Irish FA Foundation's Football For All player of the year for 2020.