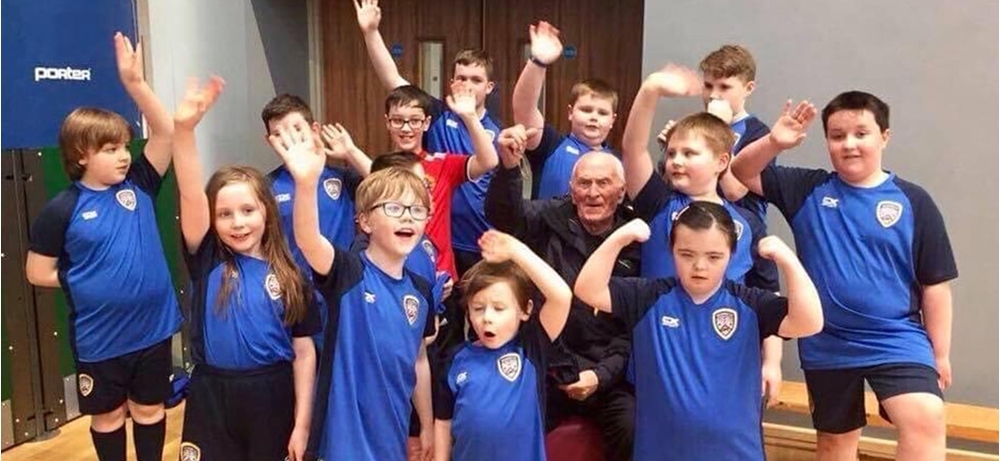 Coleraine Strikers have enjoyed an uplift in fortunes over the past four years.
In 2016 the Irish FA approached the Harry Gregg Foundation to take over the running of the disability football club in the Co Londonderry town after participation numbers began to fall.
Over the past four years the membership has grown from around a dozen young people aged 15 and above to more than 50 boys, girls and young adults training and participating in the Irish FA's Disability League and the George Best Community Cup. 
Alison Wallace from Harry Gregg Foundation said: "We may not have the strongest or most technical players but what we do have is a fantastic bunch of enthusiastic players and a brilliant coaching team who just want them to play football and be treated like mainstream players.
"The weekly structured coaching sessions provide an opportunity for those with a disability who would not be able to compete in the mainstream game.
"The focus is on enjoyment. That is paramount. The added benefits associated with involvement in regular physical activity and social interaction naturally occur and we are delighted how the programme and the players involved have developed over the past four years."
Parent Feedback for Coleraine Strikers
"Tyler loves his football and Wednesday night can't come quick enough for him. Football has taught him to be kind and play with others as part of a team, not to mention getting some exercise."
"Adam loves being part of this group. He has progressed from being a boy who always needed a hand to hold to running in by himself and grabbing a ball. Being part of this team has really built his self-esteem, with the added bonus of burning off energy and improving football skills."
"The big benefit for me as a parent with an autistic child is that he is accepted, and nobody makes him feel different or on his own. The coaching staff are brilliant. They give their time to make these kids feel important, that they matter despite disabilities. They encourage and motivate them to feel included. It's something a lot of mainstream teams could learn from. Inclusive not exclusive."
"A true example of how sport can be made accessible to all. Well done."