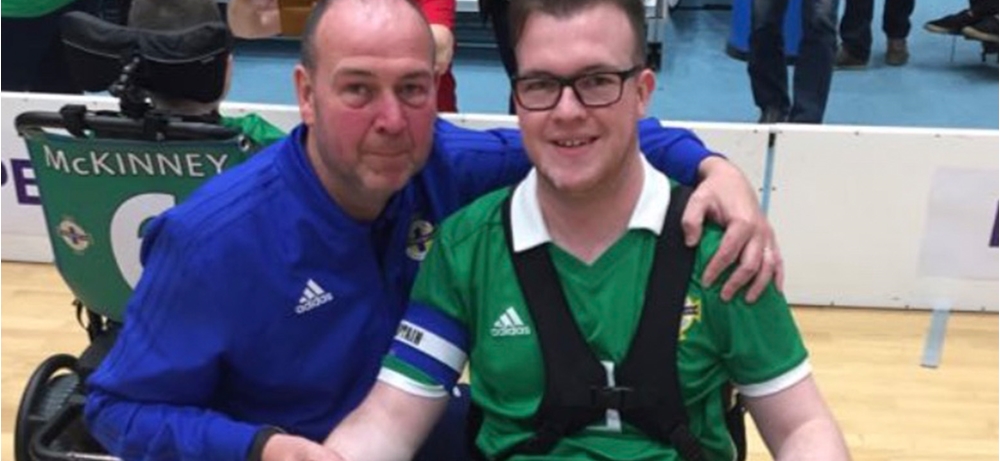 Powerchair Football is an adaptation of the running game played in specialised sporting wheelchairs, on a wooden surface, and was introduced to Northern Ireland in 2010.
Here Scott Hilland, who captains the Northern Ireland Powerchair team, outlines his involvement in the sport:
"I am one of the founding members of the first powerchair football club in Northern Ireland, Belfast Trailblazers, and we operate under the umbrella of the Irish FA/Irish FA Foundation.
"We play in the AIPF (Association of Irish Powerchair Football) All-Ireland League and have enjoyed successes in both The Shield and The Cup. It is the fastest growing disability sport in the world and there are now four clubs across Northern Ireland.
"Since those early days my dad, Michael Hilland, has obtained his coaching badges and is co-coach of the Belfast Trailblazers as well as coach of the Northern Ireland team.
"In May 2017 the first ever Northern Ireland Powerchair squad was announced - to take part in the inaugural Home Nations event in Kent.
"I was one of the players chosen for the squad and was honoured to be given the captain's armband. I was also privileged to be awarded Ulster Disability Footballer of the Year 2018-19.
"In February 2019 I was again selected to captain the Northern Ireland squad competing in the EPFA (European Powerchair Football Association) Nations Cup, which is Powerchair Football's equivalent of the Euros.
"The competition was in Finland in May 2019, and it enabled me to realise my dream of representing my country on the big international stage.
"Our young squad trained hard and we hosted a Home Nations friendly tournament in April 2019 as a warm-up.
"In Finland our expectations were measured as it was our first major tournament, but our dream was to achieve qualification for the FIPFA (Federation Internationale de Power Football Association) World Cup in Sydney, Australia, in October 2021 (now deferred until October 2022).
"We had to beat the host nation, Finland, in our final game to qualify for the World Cup. It was a nail-biting finish but the euphoria that erupted after the final whistle when we won 1-0 was palpable. The GAWA are on their way to Sydney!"
If you are a wheelchair user and would like to get involved please contact Alan Crooks, the Irish FA Foundation's Disability Football Development Manager, at alan.crooks@irishfa.com.
Image: Scott Hilland with his dad Michael. Both are heavily involved in the Northern Ireland Powerchair Football team.