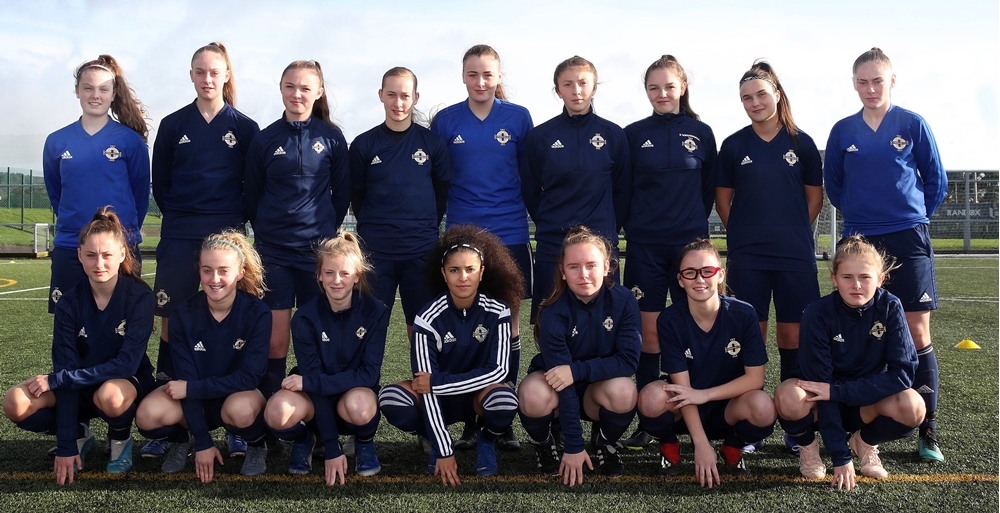 Northern Ireland Women's U17s completed their 2020 UEFA European Women's Under-17 Championship qualifying round fixtures with a 1-1 draw against Montenegro in Edinburgh.
Following a 4-1 defeat to hosts Scotland and a 4-0 reverse against eventual group winners Italy, Alfie Wylie's side were determined to put some points on the board against Montenegro, who were also defeated by the Scots and the Italians.
Northern Ireland dominated the match at the Oriam complex - they had 17 attempts on goal compared to the opposition's eight - but had to settle for a draw in the Group 10 fixture.
Alfie Wylie's side had the first chance of the game, in the fourth minute, Shona Davis just missing the target with a well-struck free-kick. And on 15 minutes Ellie-Mae Dickson steered an effort wide.
Montenegro took the lead in the 28th minute when Marijana Cimbaljevic scored direct from a free-kick.
Northern Ireland did not let the heads drop, however, and quickly launched an attack which ended with Cora Chambers forcing a fine save from Montenegro keeper Svetlana Milicic.
Moments later Cora Morgan and Dickson both had efforts blocked before Cimbaljevic fired a free-kick past the post. And just before the break Chambers had another effort which drifted wide of the upright.
Morgan forced a good save out of Milicic on 48 minutes before it was Montenegro's turn to mount some attacks. Petrovic shot wide before another rasping effort was saved by Northern Ireland keeper Jenna Corry.
Then Caoimhe Gelston-Mulholland, Morgan and Davis all had decent efforts before Morgan pounced in the 68thminute to grab the equaliser.
And three minutes later Morgan missed a glorious opportunity to extend Northern Ireland's lead. Saric fouled Gelston-Mulholland inside the area and the ref immediately awarded a penalty, however Morgan was unable convert the spot kick.
In the closing stages Wylie's side piled on the pressure. Abbie Redmond shot wide before Morgan had a shot blocked and then Gelston-Mulholland's effort drifted wide of the target. Minutes later she had a drive saved by Milicic.
Right at the death Corry kept out another Cimbaljevic effort before Andela Toskovic fluffed the final chance of the game.
Italy, who defeated qualifying round mini tournament hosts Scotland 4-0 in their final game, nowgo into an elite round draw with the second-placed Scots later this year, with the elite round games in spring 2020. Seven teams will eventually join hosts Sweden in the finals in May 2020.
Northern Ireland WU17s v Scotland: Jenna Corry, Shona Davis, Erin O'Neill, Grainne O'Casey, Cora Chambers, Cora Morgan, Abbie Redmond, Tierna Bell, Erin McGreevy, Caoimhe Gelston-Mulholland; Ellie-Mae Dickson. Substitutes: (used) Rosie Zubier, Katie Dickson, Cara Mervyn; (not used) Lauren Welsh, Grace Glancy, Ella Haughey, Fi Morgan, Aimee Neal, Cara Tumelty.