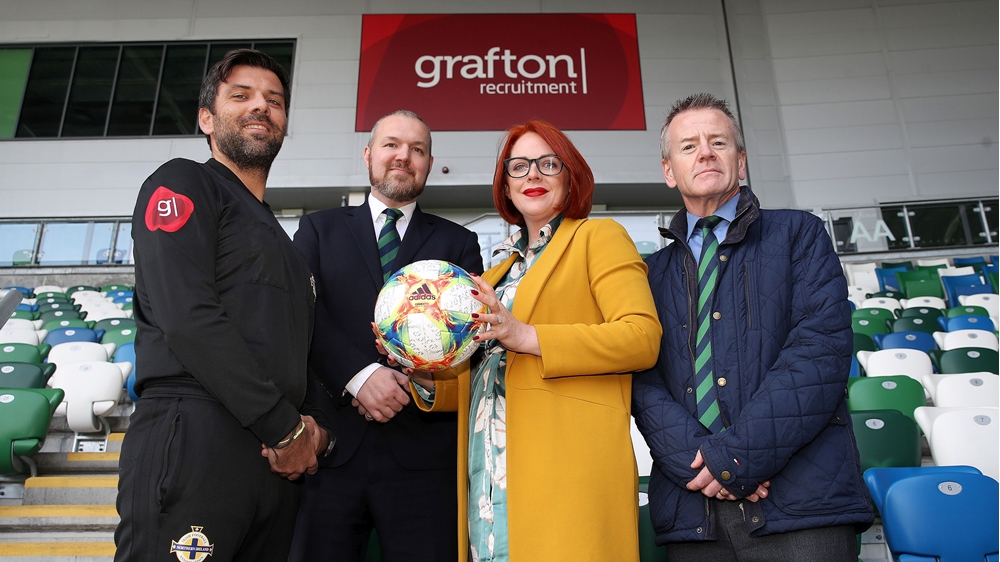 Northern Ireland's leading recruitment company, Grafton Recruitment Ireland, has agreed to provide support for referees as part of an ongoing partnership deal with the Irish Football Association.
The sponsorship package is aimed at boosting the development of refereeing in Northern Ireland.
Under the deal Irish FA referees will wear Grafton sponsorship on the sleeves of their match tops.
Tina McKenzie, Chief Executive of Grafton Recruitment Ireland, said: "The team at Grafton Recruitment are delighted to lend their support to referees seeking to hone and improve their skills through a range of training and development initiatives. 
"In many ways the game is only as good as the experts who referee it. That is why we believe it is vital that referees receive every support possible to be the most professional they can be. 
"We are proud to enable the Irish FA's Referee Department to invest in training opportunities for referees that can only help enhance the overall quality of matches the public can enjoy.
"I look forward to attending upcoming games and seeing our referees wearing the Grafton logo on their sleeves during match days."
Trevor Moutray, Head of Refereeing at the Irish FA, welcomed Grafton's sponsorship.
He said: "Match officials are constantly looking at ways to improve and develop their skills and abilities. Training and development courses and events play a key role in these improvement activities.
"The sponsorship from Grafton Recruitment is timely and very much welcomed as this financial support will enable the IFA's Referee Department to invest additional resources on a range of training and development initiatives. 
"I would like to thank Grafton Recruitment for their sponsorship of match officials who officiate at the senior levels of the local game."
Grafton Recruitment already provides employment services to the association while playing an active role in supporting the Irish FA's mission to promote, foster and develop football for all.
And the company is also the title sponsor of the Family Stand at the National Football Stadium at Windsor Park, which is known as the Grafton Recruitment Family Stand.
Image: Announcing Grafton Recruitment Ireland's support for referees are referee Andrew Davey, Stephen Bogle, the Irish FA's Head of Sales and Marketing, Grafton Recruitment Ireland Group Sales and Marketing Director Naomh McElhatton and Trevor Moutray, Head of Refereeing at the Irish FA.