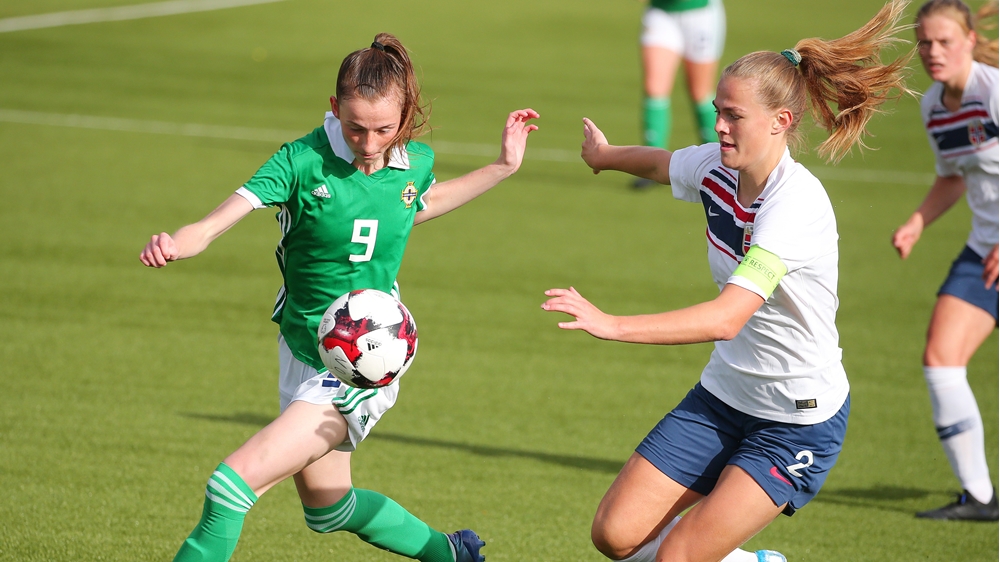 Northern Ireland Women's U19s were brought back down to earth with a bump by high-flying Norway on Tuesday.
After registering two fine wins over the past week to progress to the elite round of the 2020 UEFA European Women's Under-19 Championship qualifiers they played the Norwegians to see who would top Qualifying Group 5.
And Norway, who had already hammered both Moldova (8-0) and Wales (11-0) in a four-team mini tournament which acted as a qualifying round for the WU19 Euros, proved much too strong for them.
The game at Seaview ended 7-0 to the Norwegians, who took the lead early on and constantly kept the pressure on.
Northern Ireland only managed one attempt on goal while their opponents had 26 attempts in the 90 minutes.
Midfielder Laura Gashi was first on the scoresheet for the visitors after just six minutes and they doubled their lead through defender Mathilde Harviken in the 22nd minute.
Norway created a few decent chances in the remainder of the half but Northern Ireland keeper Lauren Perry managed to keep them at bay.
At the start of the second half, however, they extended their lead. Substitute Runa Lillegard netted after 48 minutes.
Four minutes later it was 4-0, with striker Elisabeth Terland hitting the target after being played in by Joshualyn Revees.
Terland's strike partner Celin Ildhusoy got in on the act in the 59thminute when she swept home a Julie Blakstad delivery from a corner.
Lillegard hit the woodwork with a snapshot on 72 minutes before Blakstad completed the rout with two goals. On 74 minutes she smashed a free-kick past Perry and right at the death she converted a penalty. The spot kick was awarded after Northern Ireland captain Kelsie Burrows upended Lillegard inside the box. 
Northern Ireland has been hosting the mini tournament over the past week and Wales defeated Moldova 3-0 in the other Qualifying Group 5 game today. It was played at Solitude.
Both Norway and Northern Ireland now go into the elite round draw on 21 November, with the elite round games in spring 2020. Seven teams will eventually join hosts Georgia in the finals in July 2020.
Northern Ireland WU19 v Norway: Lauren Perry, Naomi Donnan, Kelsie Burrows (captain), Toni-Leigh Finnegan, Rebecca McKenna, Jessica Rea, Caitlin McGuinness, Kirsty Cameron, Danielle Maxwell, Casey Howe, Joely Andrews. Substitutes: (used) Beth Chalmers (for Cameron 46'), Alexandra Collighan (for Maxwell 46'), Beth Smyth (for Andrews 70') Mia Fitzsimmons (for Finnegan 71'), Faith Johnston (for Howe 83') Substitutes: (not used) Maddison Clifford, Sasha Clare, Libby Gilmore, Kerry Beattie.