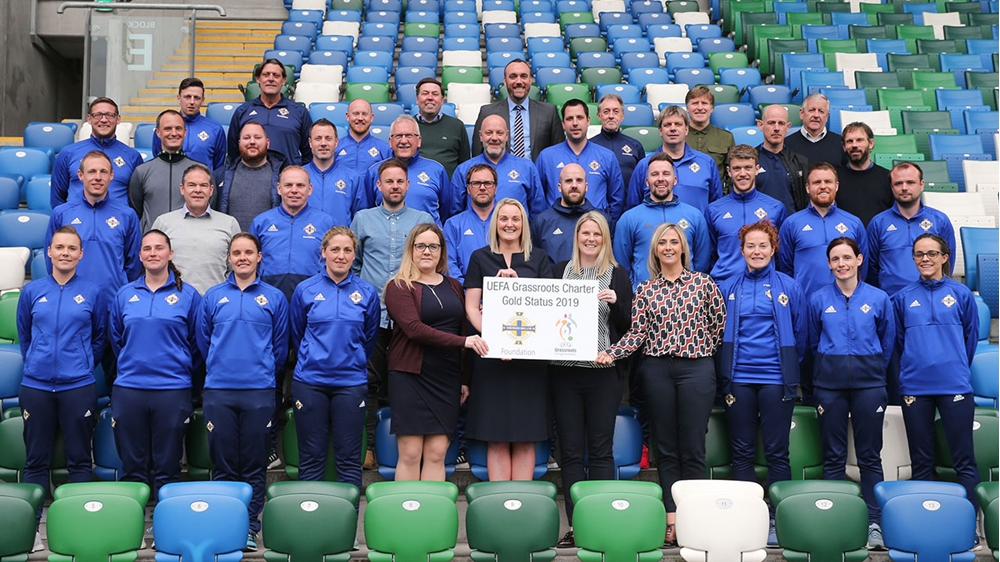 The Irish Football Association's work in grassroots football has received a major seal of approval from UEFA.
European football's governing body has presented the Irish FA with a gold award in its annual Grassroots Charter programme.
UEFA determines the status of each of its 55 member associations based on information collected through a wide-ranging survey.
Michael Boyd, the Irish FA's Director of Football Development, said: "This is a fantastic achievement for the Irish FA and a great reflection of our work at grassroots level across Northern Ireland promoting football for all and delivering the Let Them Play youth football strategy. 
"It's a reflection of the progress we are making delivering and promoting the youth strategy, girls' football plan, disability plan and futsal plan with all our partners. 
"Very few national associations receive gold status and we would like to dedicate this award to our partners and, most importantly, the clubs and volunteers who make it all happen."
The UEFA Grassroots Charter is designed to support, stimulate, recognise and reward the development of grassroots football at national level. Under the charter national associations are awarded gold, silver or bronze status according to the benchmarks established for each level.
The award means the Irish FA will receive funding to cover participation in youth, women's and futsal competitions and towards the implementation of the UEFA club licensing system as well as the application of various other UEFA coaching programmes.
The Irish FA's UEFA Participation Mentor Hannah Simpson explained: "The Irish FA has achieved UEFA gold standard because of its commitment to serving all the community through football and its commitment to football for all. 
"Since the launch of its Let Them Play youth strategy in 2015 it has more than doubled youth participation levels. It also has innovative projects in place like Shooting Stars, which is transforming girls' participation, and the People and Clubs plan, which is based on meaningful research to support the grassroots game.
"I have been super impressed by the association's staff and their commitment to growing the game at all levels in a fun, safe and inclusive environment." 
UEFA's overall grassroots programme is intended to motivate Europe's national associations to implement philosophies and initiatives that will ensure the future of the game.
Through the UEFA Grassroots Charter, a quality mark focusing on grassroots football, UEFA supports and stimulates grassroots football development at national level by setting standards and providing tailored assistance.
In addition each national association receives annual earmarked funding to continually develop and improve their grassroots activities.