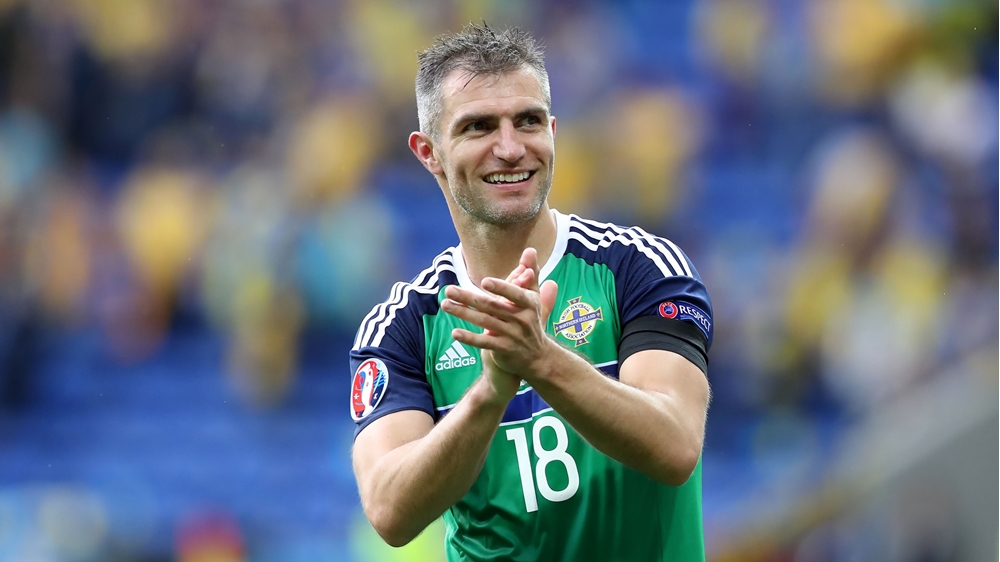 One of Northern Ireland's greatest ever players, Aaron Hughes, has announced he is retiring from football. Hughes won 112 caps for Northern Ireland - a record for an outfield player - and captained his country on 48 occasions.
He made his debut against Slovakia as an 18-year-old in March 1998 when Lawrie McMenemy was manager. He also made his 100th appearance against Slovakia in June 2016.
Hughes had announced his intention to retire from international duty in 2011 but Michael O'Neill convinced him to change his mind, a decision that was ultimately rewarded when Northern Ireland qualified for UEFA EURO 2016. At the tournament he played in three of the four matches, helping Northern Ireland beat Ukraine and reach the knock-out stages. 
His club career saw him play for some of the biggest sides in England, including Newcastle United, Fulham, Aston Villa, Queens Park Rangers and Brighton. He also played football abroad representing Melbourne City in Australia and India's Kerela Blasters. Hughes returned to the UK in 2017 to link up with Northern Ireland assistant head coach Austin MacPhee at Heart of Midlothian and played 32 games for the Edinburgh club.
Speaking about his retirement Aaron Hughes said: "I would like to thank the fans for the support they have given me, especially in the early years when things maybe weren't so great on the pitch. Windsor (Park) is such a special place and it has been so good in recent years to see the ground become a fantastic place to watch football, regardless of who you are or where you are from. 
"I could never have been a footballer if it wasn't for the support of my family. They have made huge sacrifices over the years to enable me to play and I am now looking forward to making up for days away and missed birthdays.
"I would like to thank all the managers who have selected me. Each and every one of them played a role and had a big influence. From Lawrie McMenemy, who gave me my debut, to Sammy (McIlroy) who gave me the armband, right through Lawrie (Sanchez), Nigel (Worthington) and obviously Michael (O'Neill) who has been more than fantastic with me. It would be remiss of me not to mention him in a different sort of way. At the stage of my career when I wasn't playing as much football he still saw a value in me. He still saw that I could be a good influence with younger players, and he kept me around and gave me a purpose. He gave me the opportunity to come back, to be in the squad and ultimately to go to a EUROS. For that I will be forever grateful. 
"The same goes for all the Northern Ireland staff – the kit men, the medical staff, David Currie and all the people behind the scenes. They helped make the experience of playing so enjoyable and they are all people that I will really miss.
"Finally, I would like to thank my teammates. The memories that we have had, the highs that we have had, going to a EUROS, those are experiences that you can't have on your own. You can only reach those heights if you have great teammates around you and I have been very lucky to be involved in a group over the past seven or eight years that have worked really hard to be successful. They took me to a EUROS, they took me to 100 caps and I am very proud to retire having been part of a very special group of Northern Ireland players."