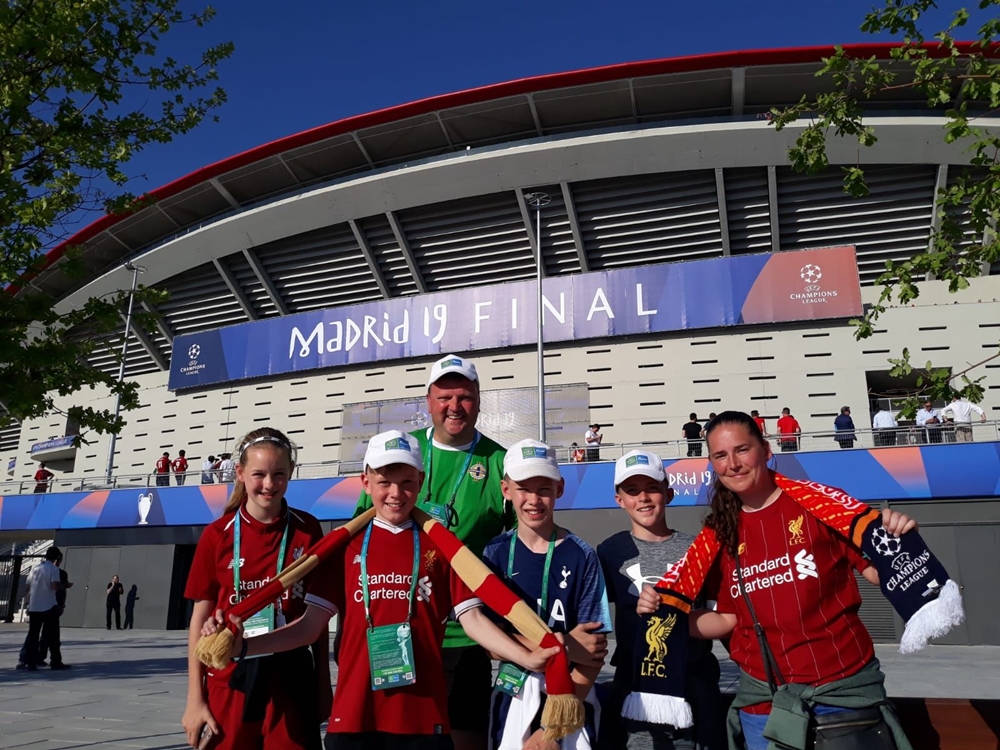 Liverpool were not the only football organisation from the UK to hold silverware aloft in Madrid over the weekend.
Prior to the UEFA Champions League final in the Spanish capital members of the Irish FA delegation at this year's Football For Friendship key events lifted two trophies – and both were Fair Play awards.
Four youths from Northern Ireland attended an F4F friendship camp and activities, a forum and global five-a-side football tournament in and around Madrid in the run-up to the UCL decider.
The Football For Friendship world championship culminated with a final at Plaza Mayor in central Madrid on Saturday.
Belfast student Reece Lyttle's team at the tournament narrowly missed out on a final berth after losing a penalty shootout in the semi-finals.
However, the 13-year-old midfielder's team, European Mink, won the overall Fair Play Award at the event.
And the Northern Ireland delegation also picked up a trophy for Liverpool FC prior to their Champions League victory against Tottenham Hotspur that evening.
Representing the UK as a whole, the group lifted the Nine Values Cup on behalf of the Reds. It will be presented to Liverpool at a later date.
The Nine Values Cup success acknowledges Liverpool as the most socially responsible club in this year's UEFA Champions League. The Anfield side were voted number one by young ambassadors from the F4F programme.
The trophy, which is awarded annually, also symbolises the nine values of F4F: friendship, equality, fairness, health, peace, devotion, victory, traditions and honour.
The other youths from Northern Ireland involved in the annual F4F jamboree were Whiteabbey teenager Aimee Kerr and Randalstown boy Kayden Letters, who both played in the tournament, and Elijah Weathered from Portadown, who was chosen to attend the events as a young journalist.
Now in its seventh year, the global FIFA-backed Football For Friendship programme, sponsored by Gazprom, is aimed at fostering social values such as respect for other cultures and nations, equality and peace as well as encouraging young people to adopt healthy lifestyles.
The F4F activities included a trip to the UEFA Champions League final for all participants, coaches and country delegates. Liverpool fans Aimee and Elijah were cock-a-hoop at the final whistle on Saturday, however they were quick to console Spurs fan Kayden.
IMAGE The six-strong Northern Ireland delegation at this year's F4F key events outside the Wanda Metropolitano in Madrid prior to the UEFA Champions League final.