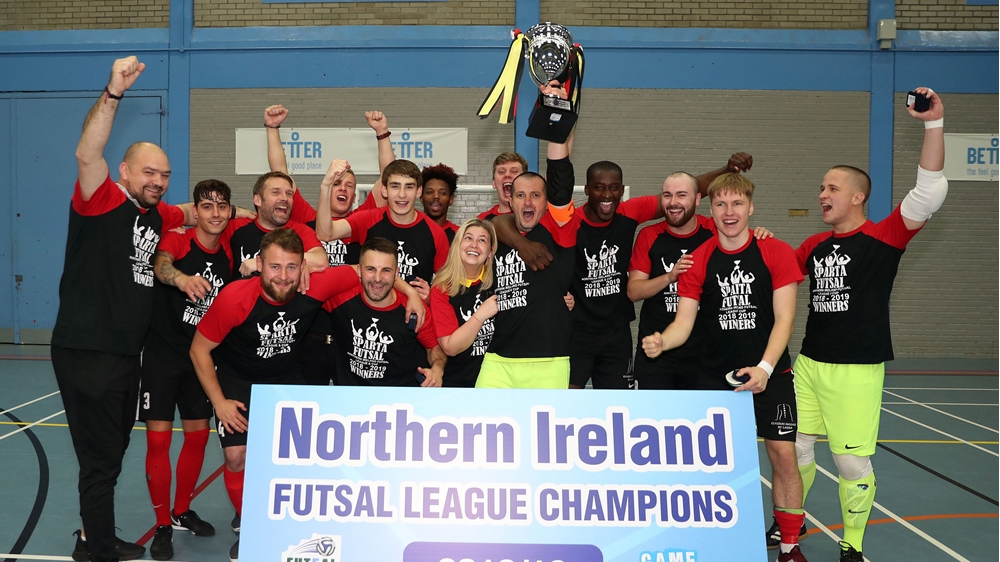 Sparta Belfast are this season's Northern Ireland Futsal League champions.
They secured the title at the weekend after defeating close rivals Belfast United in a play-off match.
And their 5-3 win meant Sparta created futsal history: they became the first futsal side in Northern Ireland to secure the league and cup double.
Both sides finished the 2018-19 league campaign with equal points after only suffering one defeat apiece – and that was to each other.
The league play-off final was expected to be a close affair, and that's how it turned out.
Sparta Belfast took an early two-goal lead, with both goals coming from Northern Ireland international Ernestas Verenka.  
Belfast United responded well and pulled one back early in the second half through Lee Colligan but then Sparta won a penalty which was scored by Luis Marcote to restore the two-goal cushion.
However, a few minutes later Belfast United were awarded a penalty which was converted by their captain, Jack Magee.
As United pushed for an equaliser Sparta turned the screw and looked dangerous on the counter-attack. Sparta then struck twice late on to ensure the victory, the best of the goals coming from a long-range strike from Carlos Djalo.  
With seconds remaining Belfast United pulled another one back through Jack Magee but it was too little too late as Sparta ran out 5-3 winners and created Northern Ireland futsal history.
The win for Sparta prevented United from winning the league championship for the third season in a row.
The prize for the new league champions is entry into the UEFA Futsal Champions League which will take place in August. The draw is being held in Nyon on 4 July.
The Northern Ireland Futsal League is run by the Irish FA Foundation.