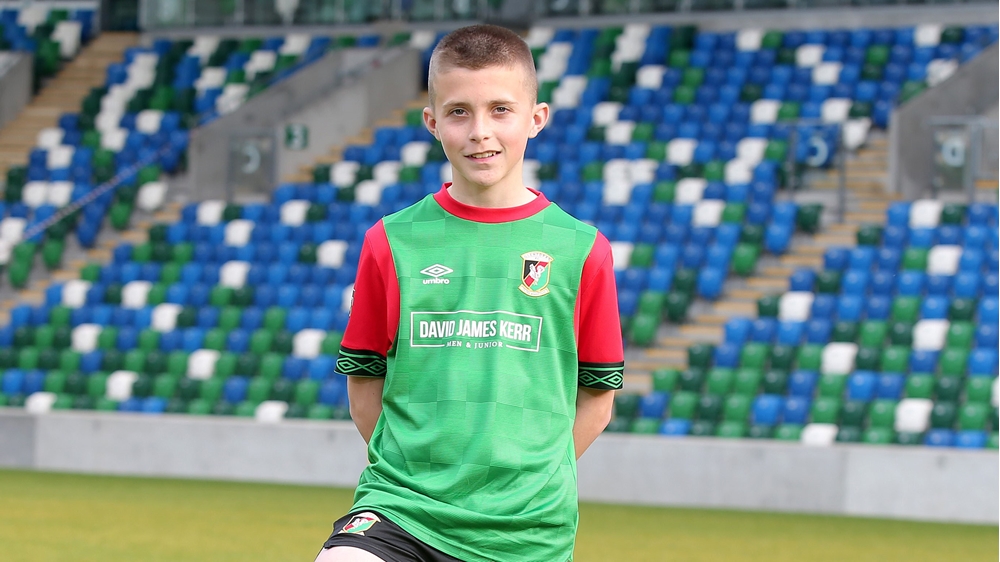 Two young footballers from Northern Ireland were in squads that reached the semi-finals of a major global football tournament in Spain.
Midfielder Reece Lyttle's team at the Football For Friendship World Championship narrowly missed out on a final berth after losing a penalty shootout in the semi-finals, while striker Kayden Letters' team were well beaten in their last four tie.
However, one of the four Northern Ireland youngsters taking part in various F4F activities near Madrid this week was part of a group who set a new Guinness World Record yesterday.
Whiteabbey teenager Aimee Kerr, who actually celebrated her 13th birthday yesterday, was chosen to represent Northern Ireland and the UK as a whole during an official record attempt for the most nationalities ever to take part in a football (soccer) training session. 
Aimee, a member of the Irish FA's Girls' Regional Excellence Programme, was among kids from 57 different countries who took part in a 20-minute session at the Polideportivo Municipal Dehesa de Navalcarbónstadium, home of Spanish third division club Las Rozas CF, which is in the greater Madrid area.
And afterwards an official from the Guinness World Records organisation declared the event was a record breaker.
The stadium was also the venue for the 32-team F4F five-a-side world championship where all the teams - they featured players from different countries - were named after endangered species of animals.
Aimee's team, Pygmy Three-Toed Sloth, or Monk Sloth for short, failed to make it beyond the group stages despite remaining unbeaten, registering a 1-0 win and two draws (2-2 and 3-3).
Belfast boy Reece's team, European Mink, reached the last four after winning two (4-2 and 5-1) and losing one (1-0) in their group – they qualified for the last eight as group winners on goal difference – and then producing an emphatic 4-0 victory in the quarter-finals.
In the semi-finals Reece, who scored six goals in the tournament despite mainly operating in defence, scored twice as his team secured a 2-2 draw in normal time. The 13-year-old, a member of the Irish FA's JD Club NI elite development programme, scored the first penalty in a shootout, however his team lost it 4-1 and therefore missed out on a place in the decider.
Randalstown boy Kayden (12), who is part of the CP Northern Ireland set-up, was the only disabled player in the Tonkin Snubnosed Monkey team.
They won their group thanks to two victories (5-2 and 6-1) and a draw (5-5). They then narrowly won their quarter-final tie (1-0) before being overrun by their semi-final opponents (4-1).
Unfortunately both Reece and Kayden just missed out on an appearance in the final which is being played today at a specially-built mini stadium within Plaza Mayor in central Madrid in the run-up to his year's UEFA Champions League final between Liverpool and Tottenham Hotspur.
This week's annual F4F football jamboree, based outside Madrid, has already featured a friendship camp and activities plus a forum and the world championship. It will culminate with today's F4F world championship final and a trip to the UEFA Champions League final for all participants, coaches and country delegates.
Elijah Weathered (13) from Portadown is also in Spain, reporting on the F4F events as a young journalist. He attends the Irish FA's Performance School at Integrated College Dungannon.
Now in its seventh year, the global FIFA-backed Football For Friendship programme, sponsored by Gazprom, is aimed at fostering social values such as respect for other cultures and nations, equality and peace as well as encouraging young people to adopt healthy lifestyles.
Image: Reece Lyttle scored six goals in this year's F4F World Championship – but his team just missed out on a place in the final.