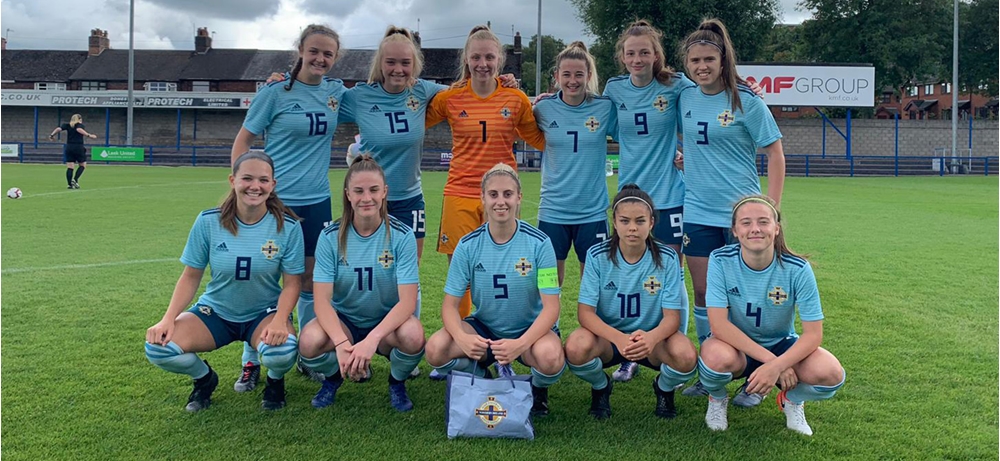 Northern Ireland Women's U19 boss Alfie Wylie believes his squad are making good progress ahead of Euro qualifiers this autumn.
The WU19s lost narrowly to both Canada and England in a three-nation tournament staged in England.
And Wylie said the matches showed the squad are ticking over nicely ahead of WU19 Euro 2020 qualifiers against Wales, Moldova and Norway in October. 
The 20-strong Northern Ireland squad featured a handful of experienced U19 players, while 13 players made their WU19 debuts over the two games. Also in the panel was a trialist from Germany, Anja Kreienfeld, who plays for DJK Dusseldorf and whose mother is from Belfast.
The first match against Canada, played at Leek, was very challenging against strong, physical opponents.
Northern Ireland started strongly and had the first attempts on goal through Jolie Andrews and Alexandra Collighan.
The Northern Ireland defence was well organised against the fast breaking Canadians, with captain Kelsie Burrows marshalling the back line well. Lauren Perry in nets was alert and dealt comfortably with any shots on goal and she also distributed the ball well from the back.
In the opening half Northern Ireland were an equal match to their opponents and the scores were level at the break.
In the second half, following a number of substitutions, Northern Ireland unfortunately fell behind to a headed goal. And then a quick counter attack led to Canada doubling their lead. 
The remainder of the match was evenly contested and the Northern Ireland squad all worked hard with the 2-0 final scoreline slightly flattering the Canadians in the overall context of the game. 
Wylie said it was "a very positive performance" with good individual displays. Burrows received the player of the match award.
The second game, against England at St George's Park, was an excellent advert for good defending and end to end play executed at a high pace, according to the WU19s boss.
Again Northern Ireland played well and took the game to England for long spells with some bright attacking play. 
Towards the end of the first half England got round the back of the Northern Ireland defence and eventually scored with a low strike. 
The second half was again even with the two best chances falling to the girls in green and white but unfortunately on each occasion they were unable to beat the England goalkeeper. 
Wylie said his team were outstanding against England and gave supporters who had travelled over for the game lots to cheer about throughout. A draw would have been a fair result. Player of the match was Rebecca McKenna.
Wylie said of the short tour: "It was a really worthwhile exercise with lots of progress being made both on and off the pitch. The staff and players all put a lot into it.
"With a number of the girls getting regular NIFL Women's Premiership games now, supported by individual strength and conditioning programmes they receive from the Irish FA, I believe that apart from the two results we could not have asked for any more."