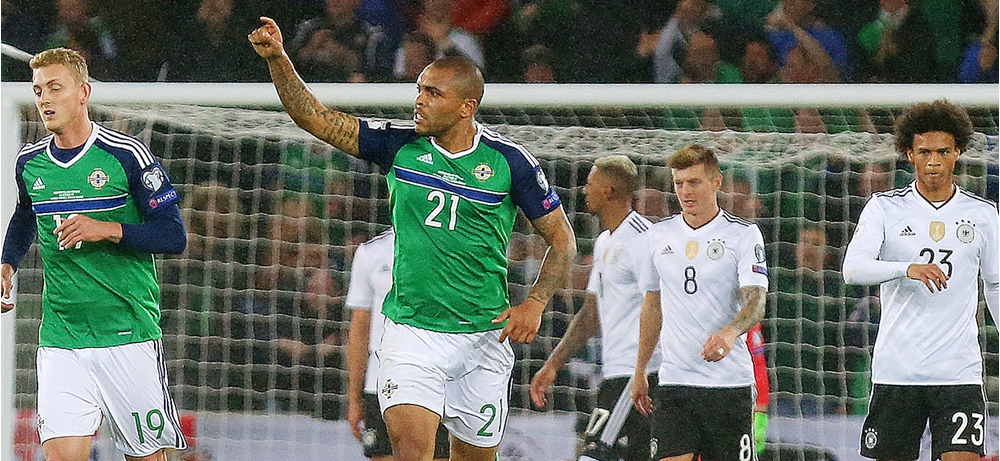 Both the Dutch and German football associations have confirmed their ticket allocations for Northern Ireland fans for the forthcoming EURO 2020 qualifiers in Rotterdam and Frankfurt respectively.
The KNVB (Royal Dutch Football Association) has set aside 2106 tickets for away fans for Northern Ireland's game against the Netherlands at Rotterdam's Stadion Feijenoord, which is also known as De Kuip, on Thursday 10 October.
And the Deutscher Fussball-Bund (German FA) has allocated 2452 tickets for away fans when Northern Ireland face Germany in Frankfurt's Commerzbank-Arena, also known as Waldstadion, on Tuesday 19 November.
The ticket allocations represent 5% of the declared capacity of the stadiums in Rotterdam and Frankfurt.
Expressions of Interest for Netherlands away tickets will open from 9 August, while Expressions of Interest for Germany away tickets will open from 13 September. Lead bookers of campaign cards will be notified by email regarding how to express an interest for these tickets. 
Meanwhile, FACR (Football Association of the Czech Republic) has confirmed it will provide 1329 tickets to Northern Ireland fans attending the international challenge match against the Czechs at the Generali Arena in Prague on Monday 14 October.
It is expected that there will be high demand for tickets for all three games and that loyalty points will be used to determine allocation of tickets. It is also believed tickets for the Netherlands and Germany away games will not be available on general sale.
Further information on loyalty points will be sent to lead bookers in advance of expression of interest opening.
For full details on Northern Ireland travel options or to register your interest visit wonkysheep.co.uk/ni.