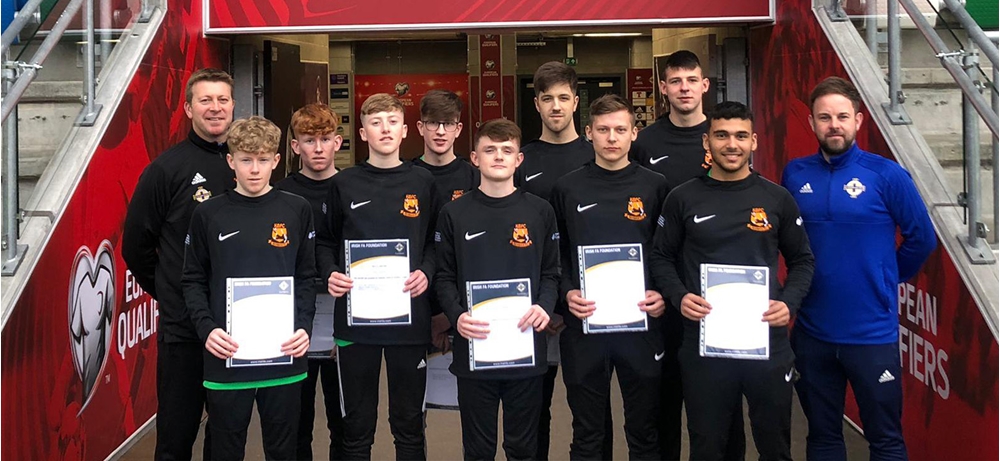 The Irish FA Foundation's education and employability programme for young people in schools and colleges across Northern Ireland has completed its second year.
The initiative has gone from strength to strength over the past 24 months with education officers Diarmuid McNeice and Gareth Allen working tirelessly to ensure its growth.
The pair have delivered the programme to more than 5000 boys and girls in post primary schools across the country over the past two years.  
In addition to completing their academic qualifications candidatescan acquire the following Irish FA qualifications and many more: Grassroots Intro Award; Level 1 Coaching Award; Futsal Intro Award; Futsal Level 1; Full Referee Award; OCN Level 2 in Football Business; Coaching Disabled Footballers Level 1.
The focus this year has been on giving participants as much real life experience as possible, through coaching at after-school clubs and the organisation and delivery of events. Some of the students are working at the Irish FA Foundation's Nutty Krust football camps this summer, while others have been working abroad (USA, Qatar). 
The foundation's education officers said they are looking forward to continuing to develop relationships forged with schools/colleges such as Northern Regional College, Larne High, St Louise's, Belfast Boys' Model and Bangor Academy. 
Several primary schools are also involved in the programme. Post primary schools have linked up with the primary schools to run coaching sessions that are delivered by the older students as part of the Irish FA Foundation programme.
The two education officers further revealed they are looking forward to welcoming new schools and colleges on board over the next 12 months as the programme expands. And details of new partners will be revealed later this summer.
If you would like to know more about the programme contact Irish FA Foundation education officers Diarmuid McNeice (07454 123530 - diarmuid.mcneice@irishfa.com)and Gareth Allen (07817 985956 - gareth.allen@irishfa.com).