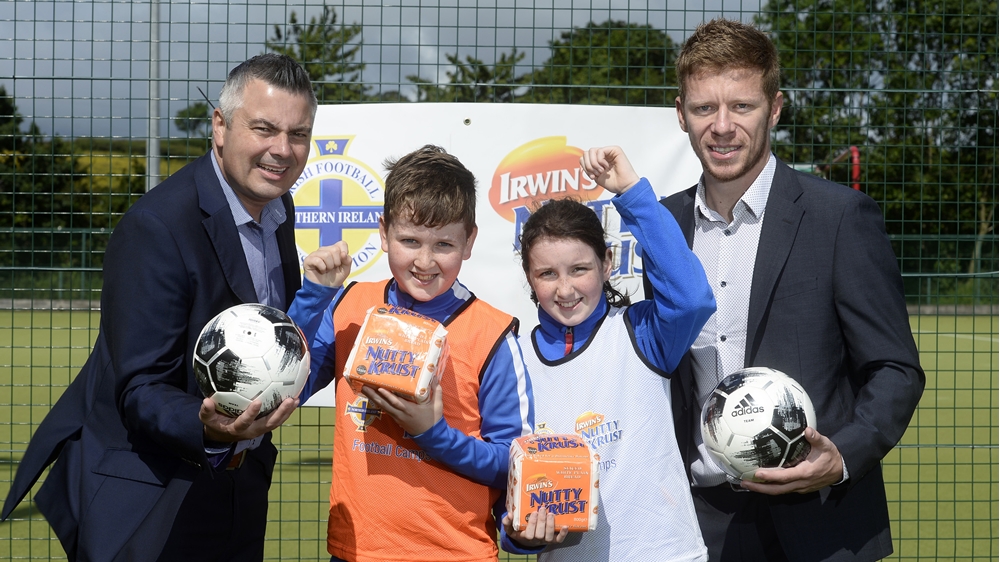 School's out for summer and over the next eight weeks the Irish FA in partnership with Irwin's Nutty Krust will host 90 football camps across Northern Ireland, including goalkeeper and girls only camps.  
The five-day camps will take place throughout school holidays in July and August and with  registration from £42 spaces  are available via irishfa.com (reduced rates apply when multiple children from same family attend).  Full details on Goalkeeping specific camps and Girls only camps can be found here.
Our Nutty Krust camps, held throughout July and August, provide boys and girls aged 5-13 with opportunities  to develop new football skills and make new friends. Every child who takes part will receive a Nutty Krust goodie bag! 
Important aspects of the game such as passing, dribbling, 1v1s, attacking, defending, shooting and small-sided games are included in a jam-packed five days of fun. 
Gary Mason, Commercial Manager at Irwin's Bakery, said: "We're delighted to see the Nutty Krust Football Camps kicking off again today. The camps are a fantastic way for parents across NI to encourage their children to adopt an active lifestyle from an early age.   
"We are looking forward to working with the Irish FA to deliver camps across the country for the 4,500 kids who are set to attend, learn footballing skills and meet new friends."  
Sean Murphy, Irish FA Chief Operating Officer, said:  "The Nutty Krust Football Camps present an exciting opportunity for children to develop and improve their football skills with professionally-trained coaching staff.  
"Participating children will also benefit from social interaction with their peers throughout the summer holidays in a positive, encouraging environment and will receive both a Nutty Krust goodie bag and a football to take home so they can continue to practice their new skills."  
Some camps are now sold out, but spaces are still available throughout Northern Ireland for the Nutty Krust Summer Football Camps.  
For full and up-to-date information on pricing, venues and course availability click here.   
Image: Nutty Krust IFA summer camp participants Emily and Owen with Gary Mason, commercial manager at Irwin's Bakery (left), and the Irish FA's Stephen Garrett.