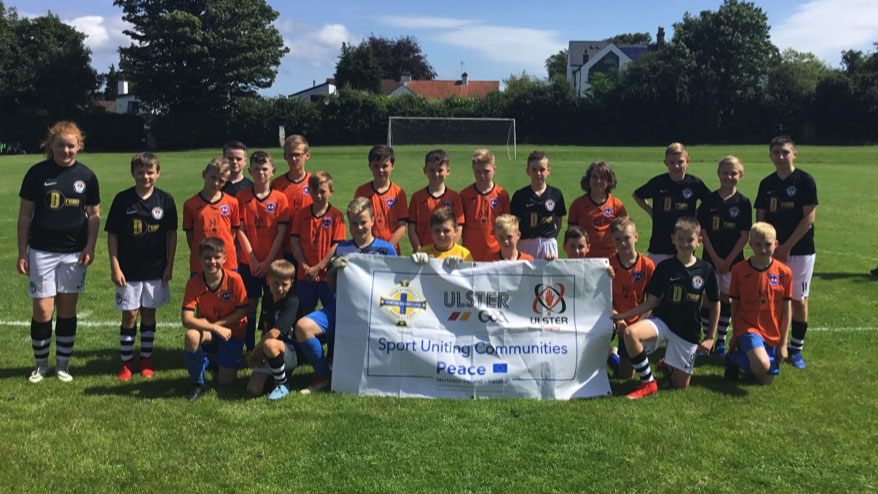 The Irish Football Association, in partnership with the O'Neill's Foyle Cup, delivered a successful Football For All campaign to teams participating in this year's Under-12 boys' tournament.
Players and coaches received a pre-match or post-match team talk promoting respect and Football for All.
Every year the Foyle Cup creates a fun, safe and inclusive environment for young people, families and the community to enjoy football and this campaign ensures the Football for All message reaches beyond the tournament. 
The team talks were delivered by Irish FA Community Sports Development Officers as part of the PEACE IV 'Sport Uniting Communities' project. 
Chris Wright, Community Relations Officer at the Irish FA, said: "As the new Community Relations Officer for the Irish FA, I am delighted to build on our already fantastic relationship the Foyle Cup. Such a well operated grassroots tournament is a joy to attend and, with so many active participants, it is the perfect partnership to promote the positive Football for All message."
Daniel Chambers, Irish FA Community Sports Development Officer, added: "We were delighted to be involved in delivering these team talks in partnership with the Foyle Cup. Respect is so important in all aspects of life not just in football so it was great to be able to educate these young players on what respect is and what it looks like on and off the pitch." 
Key learning points from the team talks included:What is Respect? Why is it important in football? Who do we show Respect to? and How do we show Respect?