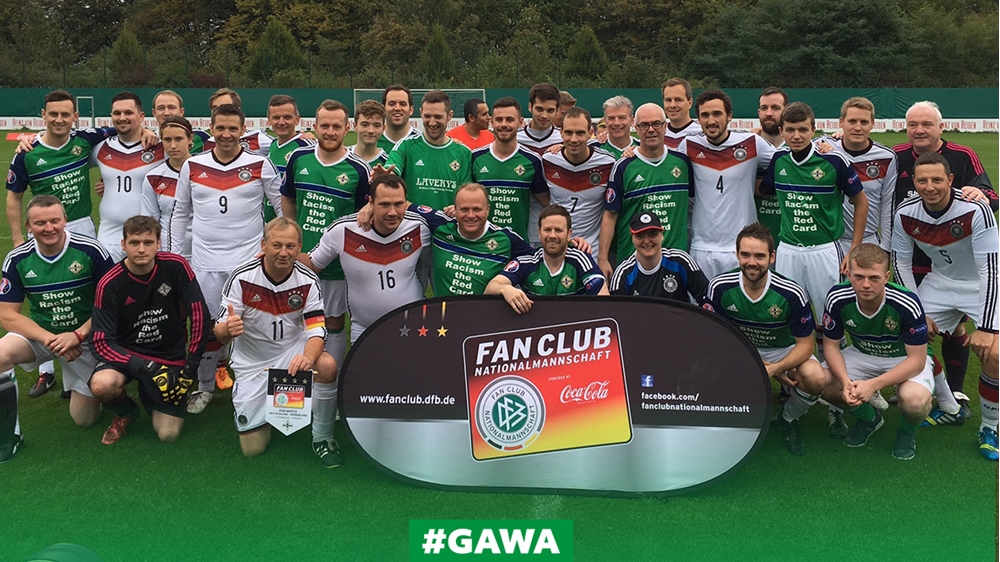 Our Fan of the Month for July has been organising fan games since 2011 with the NI Fans' team who participate in as much charity work as they do football matches.
The NI Fans' team play matches against the opposition fans of the Northern Ireland men's senior team both home and away and Stuart Mellon has captained the team that has been in operation for over 20 years.
"The first fans' team game was played in 1997 which may surprise a lot of people," said Stuart. "The person who really took ownership of the team is a great Northern Ireland fan called Jim Rainey who managed and organised many of the matches throughout the years and it was Jim who got me involved back in 2011. Currently our manager is Alan Ferris who is probably the longest-serving player, having started back in the early 2000s.
"One thing about the fans' team is that it is certainly fun to be involved in. Whether it is players being subbed off after two minutes, spectacular goals, embarrassing own goals or penalty misses you will always get a laugh. As we all know there is great camaraderie between Northern Ireland supporters and that is definitely evident with the fans' team."
The next step for the NI fans' team is a game against old rivals and friends Germany at home in September. Stuart is keen for fans to get in touch about participating and helping out. 
He said: "We are currently just putting the final touches to the organisation of the home Germany game. We will also play the Germans in Frankfurt in November and we have been in touch with Holland about arranging games against them home and away as well. 
"We are always looking for people to get involved with the fans' team and anyone who supports Northern Ireland can get involved regardless of ability, gender, religion, race and age. Over the years we have had people from all backgrounds playing which is something we are very keen to promote. We actually have our own fans' charter that all players sign before any game to say that they commit to the 'Football For All' principles we are trying to promote.
"If you would like to contact us just search for The Northern Ireland Fans' Team on social media. We would love to hear from any supporters wishing to get involved."
It's not all just about the football with the NI Fans' team though as they have raised thousands of pounds for several charities across the years. Stuart may be our Fan of the Month but he was quick to highlight others that have helped along the way. 
Stuart told us: "We nominate a charity for every campaign and our chosen charity in this campaign is the NI Air Ambulance. We have been lucky over the years to have people involved with the fans' team who have been so helpful with our charity work.
"The involvement of Jim Rainey over the years has been invaluable but also special mentions must go to Rab Mitchell (who managed the team for a while) and Debbie Beggs-Goodman. Both where instrumental in raising huge funds for orphanages in Lviv, Ukraine when the Fans Team competed in the Eurofans tournament there between 2012 and 2014."
Think you know someone that deserves to be our Fan of the Month? Contact us on social media to submit a nomination! 
Twitter: @northernireland
Instagram: @northernireland
Facebook: facebook.com/northernireland