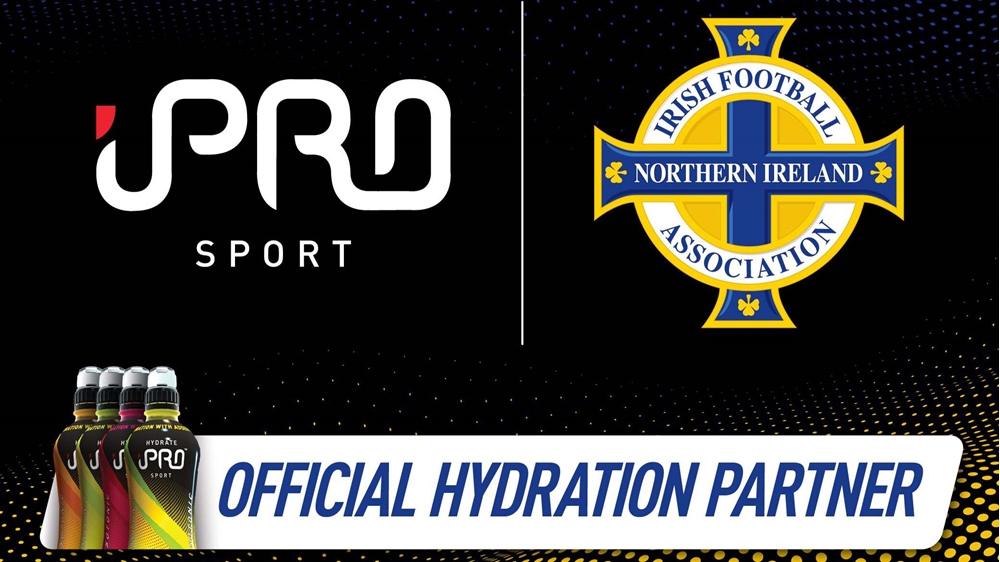 iPro Sport has become the official hydration partner of the Irish Football Association.
A leading supplier of healthy hydration drinks to the world of sport, iPro Sport has signed a multi-year deal with the Irish FA to provide healthy hydration to Northern Ireland's men's and women's international teams. iPro Sport will also become the official hydration partner to Irish FA representative teams, its coach education programme, referees, disability football, the Irish Cup and summer football camps until 2021.
Available in four mouth-watering flavours, iPro Sport is a fructose free hydration drink with no artificial flavours, colours or sweeteners – and it's the drink of choice for both professional athletes and health conscious individuals.
Sean Murphy, Chief Operations Officer at the Irish FA, said: "We are delighted to welcome iPro Sport as a new partner. 
"iPro Sport is already the official hydration partner to football teams internationally and across the Championship, League One and League Two in England as well as teams within rugby, basketball, cycling and running associations, and it's great to see Northern Ireland added to that list."
Sophie Christy, Commercial Director at iPro Sport, said: "Quality hydration is vital for athletes to perform at their very best and it is our pleasure to be able to provide essential healthy hydration support to the Irish FA.
"With various partnerships across other parts of the UK, we are very excited to extend our support to Northern Ireland ahead of the new season and we look forward to working together to promote health and wellbeing across the country."
The hydration formula in iPro Sport contains added electrolytes which help to rehydrate the body and aid recovery. iPro Sport is a low sugar recipe formula containing natural spring water, naturally sweetened using Stevia (a natural herb native to South America), informed sport approved, free from artificial sweeteners, colours and flavours containing zero stimulants or caffeine.
For more information visit www.iProSport.com