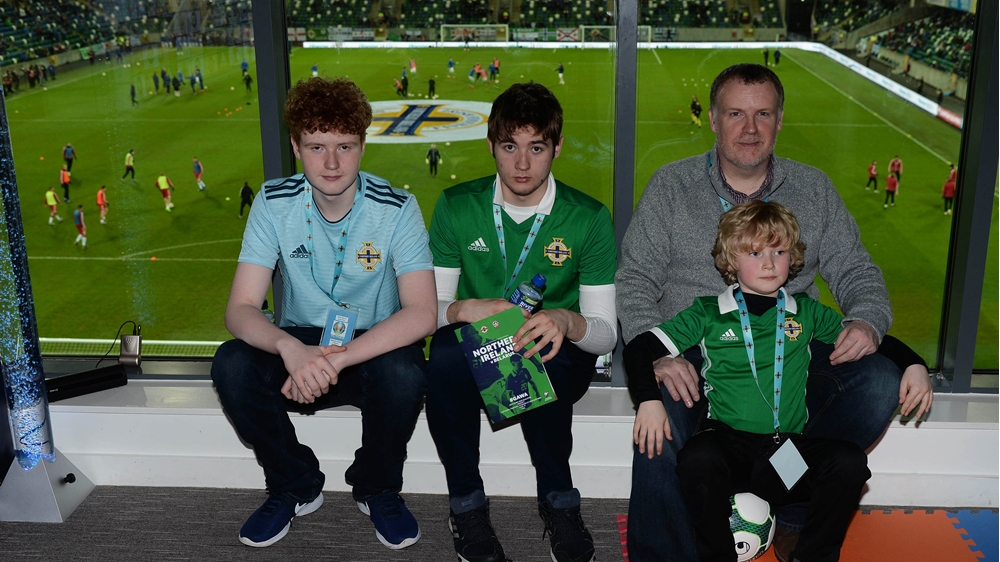 Accessibility and inclusion has been enhanced at the National Football Stadium at Windsor Park – and especially for fans with sensory needs.
During the preparations for the Euro 2020 qualifiers it was agreed that the Irish Football Association should provide a designated quiet area within the stadium to accommodate fans who love watching Northern Ireland in action but find the live matchday experience overwhelming due to the heightened noise and crowds.  
NIFL kindly agreed to allow the association to transform one of its offices, located in the Grafton Family Stand, into a quiet, calm and safe space for fans with sensory needs to enjoy both watching games and the reactions of the fans.
The space offers an excellent view of the pitch, has access to both toilet and kitchen facilities and, most importantly, is soundproofed. It features soft floor tiles, comfortable seating and LED lighting, while small sensory toys and a selection of art and craft activities have also been provided.
Families using the room can listen to live in-house commentary through a small speaker - and the families retain control of the volume level. 
On matchdays a volunteer is on hand to greet families upon arrival, issue accreditation, escort them to the room and remain available throughout the match.
The association is working in partnership with Shirelle Stewart from the NAS (National Autistic Society) who identifies families who could make use of the space.
The Agnew family were the first group to trial the quiet room. Their needs were identified in the run-up to an international game and their feedback following the match was positive.
Other features in place to help with accessibility and inclusion include ambulant seating and wheelchair areas, available for each home game within the East and South stands, plus a SoccerSight programme which allows fans who are blind or partially sighted to access in-house live commentary of the game. Small audio receivers are issued which are tuned to a dedicated Soccersight broadcast team.
On top of that the large screen in the stadium is utilised to convey both safety and game specific messages in British Sign Language. This allows any deaf or hard of hearing sign language user to have equal access to stadium announcements. 
A mobility vehicle is also available for fans to make their way from the Boucher Road into the stadium grounds. It allows those with mobility issues to get through the crowds and into the stadium in a safe and secure manner. 
The Irish FA website is utilised to keep fans up to speed on stadium accessibility. And the Ticketing department regularly make fans aware that if they or someone they know wishes to come to a game and maybe require one of the accessibility services then they will try their best to accommodate them.