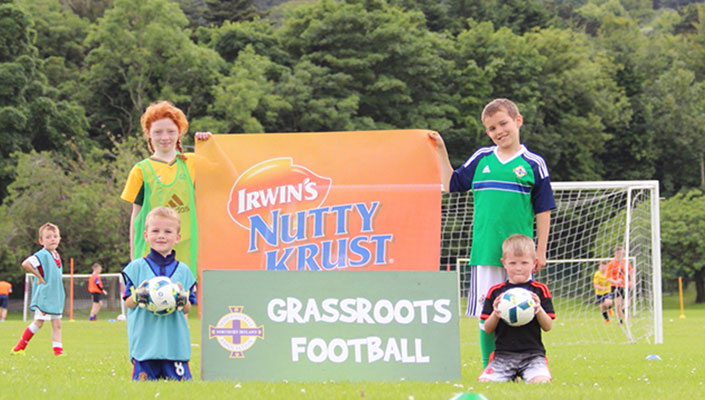 Applications are now live for the Nutty Krust Irish FA Easter Football Camps which will be held in 30 locations across Northern Ireland.
The three-day camps will take place throughout school Easter Holidays in April following on from over 7,500 children attending our Easter, Summer and Halloween camps in 2018.
"As International Team Manager I hope you can join us at one of the camps this Easter. Our Easter football camps provide boys and girls aged 5-13 with a great opportunity to develop new football skills and make new friends. Every child who takes part will receive a Nutty Krust goodie bag. Join us and bring a friend to one of this year's camps."
Michael O'Neill, Northern Ireland International Team Manager
See below for costs when booking online:
1 child:        £21
2 children:   £31
3 children:   £41
4 children:   £51
*** If paying on the first day the price will be £21 per child ***
What can you expect at an Irish FA Summer Football Camp?
Nutty Krust Irish FA Easter Football Camps are an exciting opportunity for children to develop and improve their football skills over a short period of time in a structured, fun environment with professionally trained and vetted coaching staff.
Important aspects of the game such as passing, dribbling, 1v1s, attacking, defending, shooting and small-sided games are included in a jam-packed three days of fun.
 What to bring?
- Healthy packed lunch with extra water (no fizzy drinks)
- Football boots or trainers (depending on surface)
- Shin guards
- Rain coat
- Any medical requirements (e.g. Inhaler, EpiPen etc.)
- Sun cream (applied before arrival)
 What you receive?
- 3 days top class coaching
- Opportunity to learn new skills
- Opportunity to have fun and make new friends
- Nutty Krust goodie bag
Venues, Dates & Times:
Albert Foundry F.C., Paisley Park Sportsplex     16th-18th April     10am-1pm
Ballymacash Rangers F.C., Lisburn     24th-26th April     10am-1pm
Ballymena Showgrounds     24th-26th April     10am-1pm
Ballysillan Leisure Centre     24th-26th April     10am-1pm
Bangor Aurora     24th-26th April     10am-1pm
Brooke Park 3G, Derry     24th-26th April     10am-1pm
Bushmills Primary School     24th-26th April     10.30am-1.30pm
Carrick Rangers (3G)     24th-26th April     10am-1pm
Castlederg High School     23rd-25th April     11am-2pm
Castlepark Centre, Lisnaskea     24th-26th April     10am-1pm
Cherryvale Playing Fields     24th-26th April     10.30am-1.30pm
Crossgar Playing Fields     24th-26th April     10am-1pm
Donard Park, Newcastle     24th-26th April     10am-1pm
Holywood Spafield     24th-26th April     10am-1pm
Joe McAree Stadium, Dungannon Utd Youth     24th-26th April     10am-1pm
Lakeland Forum, Enniskillen     24th-26th April     10am-1pm
Loughgall Country Park     24th-26th April     10am-1pm
Loughmoss Centre, Carryduff     24th-26th April     10am-1pm   (Closed)
Lurgan Town Arena     24th-26th April     10am-1pm
McCamphill Park, Dunloy     24th-26th April     10.30am-1.30pm
Melvin Sports Complex, Strabane     24th-26th April     11am-2pm
Mid Ulster Sports Arena, Cookstown     24th-26th April     10am-1pm
Midgeley Park, Boucher Road     24th-26th April     10am-1pm
Newry Leisure Centre     24th-26th April     10am-1pm
Omagh Leisure Centre     24th-26th April     10am-1pm
Orangefield Park     17th-19th April     10.30am-1.30pm
Quay Road, Ballycastle     24th-26th April     10.30am-1.30pm
Rathmore Grammar School     24th-26th April     10.30am-1.30pm
Kilrea Sports Centre, Craiglea Park     24th-26th April     10.30am-1.30pm
Valley Leisure Centre (3G), Newtownabbey     24th-26th April     10am-1pm   (Closed)
For any other queries please contact Michael Finch at michael.finch@irishfa.com